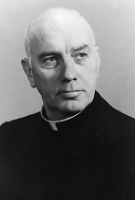 Father Thomas S. Keane, MM
Born: December 26, 1928
Ordained: June 9, 1956
Died: August 3, 2003
Father Thomas Keane died on August 3, 2003 in Prunedale, California at the home of the Whitcomb family, who had been taking care of him. He was 74 years old and a Maryknoll priest for 47 years.
Thomas Stephen Keane was born December 26, 1928 in Manchester, New Hampshire, the second son of John Cornelius and Hannah Mary O'Connor Keane. He has an older brother, Cornelius, a younger brother, Walter and a sister, Joan. The Wall Street crash of 1929 forced the family to move to Long Island, where he studied at St. Clement's Parochial School, Bishop Loughlin High School and Cathedral College preparatory seminary. Upon graduation, he entered Maryknoll in September 1949. Philosophy studies were at Lakewood, New Jersey and Glen Ellyn, Illinois. He was a member of the first graduating class at Glen Ellyn in 1951. Novitiate was at Bedford, Massachusetts and Theology at Maryknoll, New York. He was ordained on June 9, 1956 at Maryknoll, New York and was assigned to Japan.
On August 6, 1956, Father Keane sailed from Los Angeles arriving in Yokohama, Japan on August 21, 1956. The first year was spent studying the language in Tokyo. In September 1957, he was assigned to Kyoto for further language study and weekend parish work at St. Joseph's in Nishijin, Kyoto. In May 1958, Father Keane was assigned as full time Associate in the same parish. Father John Ueda, a diocesan priest was the pastor. In April 1959, the late Father Robert Hughes was appointed pastor. Geographically the parish was small, but there were 250,000 people within its boundaries. Every year thousands of young fifteen- and sixteen-year-old teenagers would leave their country homes to come and learn the ancient arts of weaving, dyeing, etc. It truly was a feudal system. They were provided room and board, but no salary or recreational facilities. It was decided to build a large Youth Center with a wide variety of activities. In the ensuing years many who came to play remained to pray. Over 1,000 of these young people were baptized.
In January 1965, Father Keane was appointed pastor of a mission station in the Southwest corner of Kyoto, Katsura. It became Christ the King Parish. It was also to become a modern suburbia with nice homes taking the place of the rice paddies. In 1965 the number of Catholics was about 25; in 1975 that number had grown to 600. A modem post-Vatican Council church was also built and the church became a religious site for pilgrims.
Father Keane was appointed administrator of the Japanese Parish of St. Francis Xavier in Los Angeles in June 1976. The Parish was founded in 1920 to care for the religious needs of Japanese immigrants.
Upon returning to Japan in July 1979, he established the parish of St. Helen's in the City of Nabari, a farming town of 20,000 people. However, it was to become a large suburb of Osaka and Kyoto. In the 11 years Father Keane was there the population grew to 60,000. The number of Catholics grew from 20 to almost 300.
For reasons of health, Father Keane returned to the States in the spring of 1992 and in May 1992 entered the Special Society Unit. Father Keane spent his final years on the West Coast, first at the Maryknoll Residence, Los Altos, California then with friends, who opened their home to him. He spent his last five years educating guide dogs for the blind. His patience and perseverance with these animals is legendary. He was an exceptionally private person who bore his infirmities without complaint. Gruff in appearance, he was much more gentle than he was willing to admit.
Mass of the Resurrection was celebrated at the Maryknoll Residence in Los Altos on August 11, 2003. The main celebrant was Father Arthur Dwyer and Father Daniel Jensen was the homilist. The biography was read by Bro. Thomas Hickey, MM. Father Keane's cremated remains will be transferred at a later date to Japan for burial in the Kinugasa Catholic cemetery in Kyoto, Japan. A Memorial Mass will be held at Maryknoll, New York in early December 2003, following the family wishes.