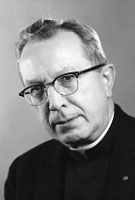 Father Thomas S. Walsh, MM
Born: February 18, 1903
Ordained: June 17, 1928
Died: January 3, 1993
Father Thomas S. Walsh died on the evening of Epiphany Sunday, January 3, 1993, at St. Teresa's Residence, Maryknoll, New York. He was 90 years old and a Maryknoll priest for 64 years.
Thomas Stephen Walsh was born on February 18, 1903, in Kokomo, Indiana, son of Ambrose Walsh and Elizabeth Heckman Walsh. He had four sisters, one of whom is Maryknoll Sister Dorothy Walsh, and another sister became Sister Mary Madonna, S.S.J. He studied for eight years at St. Patrick's Parochial School in Kokomo, and five years at St Francis Seminary, Milwaukee, Wisconsin. He entered the Maryknoll Major Seminary in Ossining, New York, on September 7, 1922. He received a Bachelor of Theology degree in June of 1927 and a Master of Arts degree in Education in June 1928 from Catholic University of America, Washington, D.C. He was ordained a priest on June 17, 1928 at Maryknoll Major Seminary.
Father Walsh's first eleven years after ordination were spent at Maryknoll Apostolic College Clarks Summit, Pennsylvania (Venard) in teaching positions which quickly developed his excellent native talents. He proved to be a strong, steady priest, able to carry a heavy administrative load, He served as a philosophy teacher, Director of the Maryknoll Brothers, acting Rector and then for four years as Rector of the Venard. In May of 1939, he was assigned to secure a doctorate degree in education at Cambridge University, Cambridge, England. However, this assignment was rescinded because of the outbreak of World War II. In place of Cambridge University, he was assigned for one year to tour and study Maryknoll's missions in the Orient. In June of 1940, he was appointed to the faculty of Maryknoll Major Seminary and assistant director of the philosophy students at Maryknoll, New York.
On November 2, 1942, Father Walsh was appointed the first Society Superior of six Maryknoll priests in Maryknoll's new mission in the Diocese of Temuco, Chile, South America. He served there until June of 1946 when he attended the Third General Chapter at Maryknoll, New York. At this General Chapter he was elected Vicar General of the Maryknoll Society for a term of ten years. At the Fourth General Chapter in August of 1956 he was elected Second Assistant General for another term of ten years. During those twenty years he exercised great influence on Maryknoll's education policy for training Maryknoll students. He guided the purchase of Maryknoll Junior College, Lakewood, New Jersey. He guided the construction and expansion of the Maryknoll College, Glen Ellyn, Illinois, the Maryknoll Junior Seminary, Chesterfield, Missouri, and the Maryknoll Novitiate at Hingham, Massachusetts. He was broken hearted many years later when the seminaries were closed. Likewise, he had major influence on the selection of new Maryknoll missions in Latin America and the Orient.
On December 12, 1966, he was appointed for a term of five years as Procurator General in Rome, Italy. He served Maryknoll and the world-wide missions with distinction, and was reappointed as Procurator General on January 6,1971. At the age of 70, having completed his service in Rome, he was assigned to the U. S. Region and appointed as a consultant to the General Council for financial affairs. For the next few years he rendered valuable service to the General Council. At his request, as he felt his health deteriorating, he was enrolled in the Special Society Unit on February 26, 1976 with residence at Maryknoll Center and continued limited active service. Finally, due to advancing health concerns and unable to do any more work he entered St. Teresa's Residence on March 24, 1982. The Superior General wrote the following appreciation to him: "I would like to take this opportunity to express to you the profound gratitude that all Maryknollers have for you as one of our all time great Maryknollers, for the service that you have so wonderfully rendered over your long career – not only to Maryknoll but to all aspects of the foreign mission apostolate of the Church. We have been very blessed these last few years to have you present with us here at the Center – and for this, we give thanks to the Lord."
Maryknollers may not realize the full extent of Father Walsh"s contributions to Maryknoll Society and the missions, but they are certainly grateful to God for his 70 years of fruitful presence and work in Maryknoll. On the occasion of his 50th anniversary of ordination1 June 17, 1978, Father Walsh wrote three sentences which epitomize his life: "Although I owe so much to so many, it was Bishop James Anthony Walsh, M.M., co-founder of Maryknoll, who most of all opened my mind and heart to the significance of my call to the priesthood and missions. In him I came to recognize the qualities of heart and mind, the profound depth of his faith, and the sincerity of his love of God which gave me a sense of my own short comings. By word and example Bishop Walsh continues to encourage and inspire all of us."
Wake services were held in St. Teresa's Chapel and Queen of Apostles Chapel on Wednesday evening, January 6, conducted by Fr. Thomas H. Keefe. Concelebrated Mass of Christian Burial was offered on Thursday, January 7 in Queen of Apostles Chapel, with Bishop John J. Rudin as principal celebrant and Fr. Edward J. Manning as homilist. Interment in Maryknoll Center Cemetery.