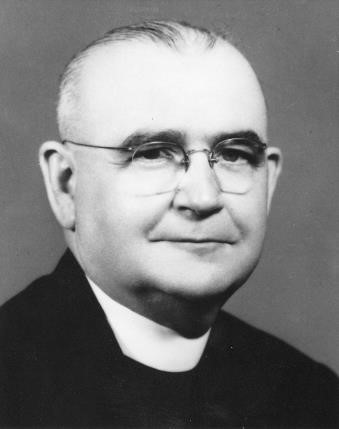 Father Thomas V. Kiernan, MM
Born: November 6, 1897
Ordained: June 15, 1924
Died: November 8, 1993
Father Thomas V. Kiernan died peacefully on Monday, November 8, 1993 at 11:30 a.m. in St. Teresa's Residence. He was 96 years old and a Maryknoll priest for 69 years.
Thomas Vincent Kiernan was born in Elmira, New York on November 6, 1897, son of Patrick Hugh and Elizabeth Nixon Kiernan. He was the ninth of fourteen children. One of his brothers is Father Arthur C. Kiernan, M.M. He studied at St. Patrick's Parochial School in Elmira, New York and graduated from Cortland High School, Cortland, New York in June 1916. He matriculated at Niagara University, Niagara Falls, New York. In September 1916, and pursued studies leading to his entrance into the Seminary of Our Lady of the Angels at Niagara University in September 1918. He studied there for the Diocese of Buffalo until he entered Maryknoll Seminary in Ossining, New York, on September 1, 1921. He was ordained a priest at Maryknoll Seminary, in New York, on June 15, 1924.
After ordination, Father Kiernan was appointed Procurator at Maryknoll Center, New York, and also taught classes in the Maryknoll Seminary for three years. He remained in that office until June 16, 1927 when he was assigned to Maryknoll's new mission in Wuchow, South China. He mastered both the written and spoken Cantonese language and became an expert preacher. He served as rector of the Pingnam Mission for two years. While in the Wuchow mission he built a church that won international attention for its fine architectural style and was written up in the pages of the Liturgical Arts Magazine. He also served as the Group Superior of the Maryknollers in Wuchow, and taught for two years in the Minor Seminary in Kongmoon. As Pro-Prefect of the Wuchow Prefecture he attended Maryknoll's Second General Chapter in 1936 held in the Stanley House in Hong Kong. At the Chapter Father Kiernan was elected 4th Assistant General on the Society's General Council, and filled the position of Treasurer General until his term on the Council terminated at the 1946 General Chapter held at Maryknoll Center in New York. On November 29, 1946 Father Kiernan was assigned to the Maryknoll Mission in Hawaii and arrived in Honolulu on February 15, 1947. His missionary work in Hawaii lasted only eight years, but they were very fruitful years. His one and only appointment in Hawaii was as Pastor of St. Joseph's Parish, Hilo, and Dean of the Catholic Clergy on the Island of Hawaii.
St. Joseph's Parish was the only parish in Hilo, a city of 30,000 people of whom 10,000 were Catholics spread over an extensive territory with six mission stations. Father Kiernan's work among the people deserves the highest commendation. Because of his zeal and outstanding abilities, the tone or spirit of the whole parish changed completely for the better. He was active in civic affairs as well as parish affairs. He consolidated the separate parish boys grade and high school and the girls grade and high school into one new co-educational St. Joseph Grade and High School. He managed the construction of grade school buildings consisting of 16 classrooms, plus offices, library, cafeteria and assembly hall for the grade school, and a large fully equipped high school building, library, cafeteria and gym for a total enrollment in both schools of 1,200 children. The parish school program organized by him is still functioning to this very date.
The Bishop of Honolulu wrote of him to the Superior General: "May I take this opportunity to express my sincere gratitude to you for sending us Father Kiernan. Everyday I appreciate his splendid work more and more." The Hilo daily newspaper wrote that Father Kiernan's work has "marked a turning point in the distinguished history of the parochial schools on the Island of Hawaii." It added that this "new deal in Catholic Education stemmed from his appointment to St. Joseph's Parish in 1947."
Father Kiernan was elected Chapter Delegate for the South Pacific Group I and he returned to New York for the 1956 General Chapter. After the Chapter he did not return to Hawaii, but on September 17, 1956 he was appointed pastor of Maryknoll's St. Francis Xavier Japanese Mission in Los Angeles, California. Due to health concerns, he was transferred to the faculty of Maryknoll Junior Seminary (Venard) in Clarks Summit, Pennsylvania, where he served as Spiritual Director on March 31, 1958. On March 29, 1961 he was transferred to the new Maryknoll Junior Seminary in Chesterfield, Missouri, as Spiritual Director. He served there for eight years. He had a reputation of being an excellent counselor and spiritual director, because of his deep interest in the welfare of the young seminarians and his willingness to listen.
In May of 1969, he accepted a chaplaincy at St. Joseph's Hospital for the elderly in Port Charlotte, Florida. Due to declining health Father Kiernan formally retired to St. Teresa's Residence, at Maryknoll, New York, in April of 1970. He lived and rejoiced for another twenty three years at St. Teresa's Residence. On the occasion of his 50th anniversary of ordination, June 15, 1974, he wrote: "I have so much to thank God for that I don't know where to start or end. Maryknoll has been my life and it is joyful to have been blessed in its ranks."
Wake Services held Thursday, November 11, 1993, in St. Teresa's Residence at 7:00 P.M. and in Queen of Apostles Chapel at 7:30 P.M. On Friday, November 12, 1993, morning at 11:30 A.M., Concelebrated Mass of Christian Burial offered in Queen of Apostles Chapel, followed by interment in Maryknoll Center Cemetery.