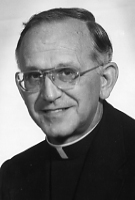 Father Tito J. Consani, MM
Born: September 18, 1930
Ordained: June 13, 1959
Died: December 7, 1992
Tito Joseph Consani died at Northern Westchester Hospital, Mount Kisco, New York, Monday morning, December 7, 1992. He was 62 years old and a Maryknoll Priest for 33 years.
Tito Joseph was born on September 18, 1930 in Philadelphia, Pennsylvania, only son of Dominic Consani and Carmela Michelotti Consani. He had two sisters. He studied at various grammar schools, attended first year of high school at Salesian High School in New Rochelle, New York, and graduated from South East Catholic High School, Philadelphia, in June 1949. He became interested in Maryknoll while attending first year high school. After listening to the experiences of two Maryknoll Sisters who had been in Japanese prison camp during World War II, Tito decided that he would apply to become a Maryknoll priest. He entered Maryknoll Society on June 25, 1949 for special Latin studies for one year at Maryknoll Junior Seminary in Brookline, Massachusetts. He transferred to Maryknoll Junior College at Lakewood, New Jersey in September 1950 He finished his college studies at Maryknoll College, Glen Ellyn, Illinois, and earned his Bachelor of Arts degree in Philosophy in June 1954. He was ordained a priest at Maryknoll Seminary, New York, on June 13, 1959.
Father Consani was assigned to Maryknoll's Central America Mission Region on June 14, 1959. Due in great part to his Italian heritage, he became fluent in Spanish language. He began his missionary service as Assistant Pastor in the parish of Santa Eulalia, Huehuetenango. During this period his Superior wrote: "Father Consani loves the work and applies himself diligently. He is never idle. He has a good deal of ability and a most pleasant disposition. He does well in catechetical work and in work with the youth. He is most willing to learn and should develop into a good missioner."
In September, 1961, Father Consani was named Pastor of the Maryknoll parish in the town of Cuilco. In October, 1963 he was appointed Local Superior of the Maryknoll Center House in Guatemala City and did pastoral work in a poor barrio in the City. In December of 1964 he was named Pastor of the Santa Ana parish in Malacatancito, Huehuetenango, where he established an orphanage for twenty youngsters. He brought Sisters into the Parish to run the orphanage and parish school. He developed the local income to a point where it could provide for a Guatemalan diocesan priest as Pastor. At the same time he was Director of Education and Superintendent for the 14 primary and secondary Catholic Schools for the Diocese of Huehuetenango. On May 1, 1967 the Superior General appointed him Second Alternate Consultor to the Guatemala Regional Superior. In April 1968 he was named First Alternate Consultor. In the 1970s, while continuing as Pastor of the Malacatancito Parish, he also served as the Vicar General of the Diocese of Huehuetenango and a member of the Board of Consultors to the Bishop while continuing as Pastor in Malacatancito. In a self appraisal in 1971, Fr. Consani wrote: "I am most happy and at peace in my vocation. I have chosen it freely and with my eyes open and try to accept all the demands that my vocation makes on me."
On July 1, 1978 he was assigned to the U.S. Region and to the Development Department, where he served in Houston, Texas and Puerto Rico. From July through December 1981 he participated in the renewal program for priests run by the Society of Divine Word in Rome, Italy. Effective July 1, 1981 he was named as Director of the Houston, Texas, Development House for a period of three years. During this period, the General Council Visitor wrote: "Father Consani is very happy in the Houston Development House and enthusiastic about his work. He relates very well with the other men in the House which seems to result in a very happy community spirit."
In 1984, after completing his Development assignment, he participated in the Society's Spiritual Renewal Course in Jerusalem, Israel. In August of that year he was again assigned to the Maryknoll Central America Mission Region and to pastoral work in the Diocese of San Pedro Sula in Honduras. In his letter of assignment, the Superior General thanked him for his "outstanding service to mission and Maryknoll and in a special way during your years in the Development Department." In the spring of 1991 Father Consani returned to the U.S. and St. Teresa's Residence at Maryknoll, New York for medical care. In the fall he was able to return to his parish in Honduras but again in March of 1992 he returned to New York for further medical care.
Wake services conducted in St. Teresa's Residence Chapel Wednesday December 9 at 7:00 p.m., and in Queen of Apostles Chapel at 7:30 p.m. Concelebrated Mass of Christian Burial offered in Queen of Apostles Chapel Thursday December 10, at 11:30 a.m., with Fr. Ronald S. Michels as Principal Celebrant and Fr. Albert L. Reymann as Homilist. Interment in Maryknoll Center Cemetery, conducted by Fr. John K. Halbert.