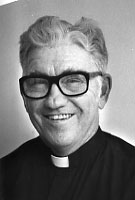 Father Vincent H. Montague, MM
Born: September 3, 1926
Ordained: June 12, 1954
Died: July 29, 1996
Father Vincent P. Montague died at St. Teresa's Residence, Maryknoll, New York, at 7:50 a.m. on July 29, 1996. He was 69 years old and a Maryknoll priest for 42 years.
Vincent was born on September 3, 1926, in Detroit, Michigan, son of John Leo and lnez Donahue Montague. He had two brothers and one sister. Vincent's primary education took place in St. Dominic School, Detroit and Assumption School in Topeka, Kansas. He attended Capitol Catholic High School, Topeka, for two years. Vincent entered Maryknoll Junior Seminary in St. Louis, Missouri, on September 9, 1943 and a year later moved to Maryknoll Apostolic College, (Venard) Clarks Summit, Pennsylvania for three years. He received his Bachelor of Arts degree in Philosophy in June 1949 and his Master of Religious Education in June 1954 at Maryknoll Seminary, Ossining, New York. He was ordained a priest in Annunciation Chapel at the Maryknoll Sisters Center, in Ossining on June 12, 1954.
After ordination, Father Montague was assigned to the Maryknoll Mission in Yucatan, Mexico. He served his entire mission career in the Maryknoll Mexico Mission Region, with the exception of six months as Chaplain at Phelps Memorial Hospital, North Tarrytown, New York in 1971.
After Spanish language studies in June 1955, he was appointed Assistant Pastor of the Tihosuco Parish in Quintana Roo, a difficult mission involving frequent and long journeys through the native villages. In July 1956, he transferred to the Bacalar Mission. In 1958, he served as Assistant Pastor in the Carrillo Puerto Parish in Quintana Roo. Working well with the Mayan Sisters, he learned a great deal about Mayan religious thought and customs. In 1961, he was Assistant Pastor of the Peto Parish with a number of villages to serve. In October 1963, he was appointed Head of the Mission in Yaxcaba, in Yucatan. In November 1967, he became Pastor of San Sebastian Parish in Merida City, Yucatan.
In December 1969, Father Montague was appointed Pastor of Aragon III Parish in Mexico City for a year and half. In 1979, he was appointed Pastor of Tzucacab, in Yucatan, a very active parish among 14,000 Mayan Indians who are mostly corn farmers. He was the guiding priest on a parish team which includes a number of lay persons and four Mayan Sisters. In addition to performing the usual pastoral duties, he was actively engaged in several Church organizations, bible groups and a youth club with over 100 volunteer catechists.
On November 27, 1989 he was appointed Second Assistant to the Regional Superior for a three-year term as he continued to serve the people of Tzucacab.
On April 7, 1958, Father Montague, Father Francis Collins, Father Donald Hessler and a lay missioner, Mr. Jim Lamb, all sustained injuries when the four passenger twin engine airplane they were traveling in crashed in the jungle. Miraculously no one was killed, though all suffered various degrees of injury. Father Montague was able to walk a mile and a half through the jungle to a small settlement where he found help for the others. In July of 1972 he suffered various injuries in an automobile accident, but recovered fully and returned to his work.
In late June 1996, Father Montague returned to Maryknoll, New York, for medical treatment. He took up residence at St. Teresa's Residence in mid-July.
Father Montague was known to be a very active missioner who loved his work. As he said on the occasion of his 25th Anniversary of Ordination, "I don't have much time to sit down but I enjoy my work and love all the people. I wouldn't change it for the world." His Superiors noted that he was efficient and conscientious about his work, related well with people and worked well with others in a team.
Wake services were held for Father Montague on Wednesday, July 31 at 7:00 p.m. at St. Teresa's Residence Chapel and at 7:30 p.m. in Our Lady Queen of Apostles Chapel at Maryknoll Center, New York, where Father Lawrence Dugas presided. Mass of Christian Burial was concelebrated on Thursday, August 1, 1996 at 11:30 a.m. in Queen of Apostles Chapel. The Principal Celebrant was Father Delos Humphrey and Father Raymond Sullivan was the homilist. Interment followed at Maryknoll Cemetery with Father Leo Shea presiding.