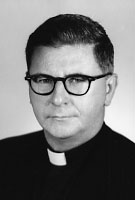 Father Vincent T. Mallon, MM
Born: July 19, 1922
Ordained: June 11, 1949
Died: December 18, 1992
Father Vincent T. Mallon died December 18, 1992 at St. Teresa's Residence. He was 70 years old and a Maryknoll priest for 43 years.
Vincent Thomas was born on July 19, 1922 in Brooklyn, New York, only son of Vincent H. and Mary Catherine Mallon. He had three sisters. He graduated from St. Gregory Parochial School in June 1936; and Brooklyn Preparatory College run by the Jesuit Fathers in June, 1940. On September 9, 1940, he entered Maryknoll Apostolic College (Venard), Clarks Summit, Pennsylvania, where his cousin, Father Vincent P. Mallon was serving on the Faculty. He obtained his Master of Religious Education degree in 1949 at Maryknoll Seminary in Ossining, New York. As a student he enjoyed a wide range of activities including reading, music, public speaking, and mission history. At the Venard College he was the editor of the student newspaper called the "Venarder" which helped him to develop his distinctive style of writing. He was ordained a priest at Maryknoll Seminary on June 11, 1949.
After ordination, Father Mallon obtained a Bachelor of Library Science from St. John's University in Brooklyn, and upon graduation he was appointed Librarian at the newly opened Maryknoll College, Glen Ellyn, Illinois. He served in that position until June 1958. During this time he joined the Catholic Library Association and served as its Executive Secretary for three years, and also served as the Editor of the Catholic Library World. He built up a first class college library; enjoyed attending library conventions; published many articles and book reviews. On weekends and vacations he helped out in parishes where needed.
On June 15, 1958 Father Mallon was assigned to the Maryknoll Mission Region in Peru, South America. After Spanish language and cultural studies, he was appointed assistant pastor in San Juan Parish in the mountain area of Puno, Peru. A year later he was assigned to the urban San Juan Parish in Lima. While there, he was invited by the publisher of the national newspaper "La Prensa" to write a daily religious column. Under his by-line about 1000 columns were published during the years of 1961 to 1964. On September 1, 1964, Father Mallon was assigned to work in the Apostolic Nunciature under Archbishop Romulo Carboni, the Apostolic Nuncio to Peru, for four years. He accompanied Archbishop Carboni as his personal secretary during the third session of the Second Vatican Council in Rome, Italy. During those years he also served as the U.S. National Catholic News Service correspondent in Peru.
In January 1965, Father Mallon returned to Peru and was appointed Chairman of the Second Lima Conference of the Maryknoll Fathers and Brothers held in Lima in March of 1965. In July of that year he was appointed the first Coordinator of the new Maryknoll Mission Unit in Caracas, Venezuela. As pastor of the new parish of the Ascension, Cumbres de Curumo, Caracas, he built a church and laid plans for a school. In August of 1969 he was appointed Director of the Information Department of the Episcopal Council of Latin America, called CELAM, in Bogota, Colombia. In January 1971 he was appointed to serve as secretary to John Cardinal Wright in the Vatican's Congregation for the Clergy in Rome. He remained in that post for fourteen years and developed a high respect for the Roman Congregations and their policies. Father Mallon was twice elected as the representative of Maryknoll's Special Society Unit and participated in the Inter-Chapter Society Assembly in Hong Kong in 1982.
On June 28, 1985, Father Mallon was appointed Administrator of St. Teresa's Residence at Maryknoll, New York. He served tirelessly and efficiently as Administrator for six years. He published periodically an in-house newsletter called "Pines Bridge Road Newsletter" for the members of the Special Society Unit. This provided him with a medium in which to express his strong critique of the current status of Maryknoll Society.
He was elected First Official Delegate for the Special Society Unit and participated in the Pre-Chapter Meeting in January 1990 and in the Ninth General Chapter in October of 1990. At the end of his term as Administrator, Father Mallon was appointed animator and organizer of Maryknoll's postulation Project to promote the Causes for Beatification and Canonization of Maryknoll Society's Co-Founders, Bishop James Anthony Walsh and Father Thomas Frederick Price. He collected a great deal of valuable information about the process of the Causes before he became afflicted with the brain tumor that led to his death.
Wake services were held in St. Teresa's Residence Chapel and in Queen of Apostles Chapel at the Maryknoll Center. Concelebrated Mass of Christian Burial was offered in Queen of Apostles Chapel. Interment took place in the Maryknoll Center Cemetery.