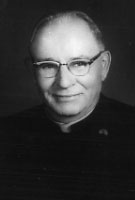 Father Vincent W. Walsh, MM
Born: January 10, 1910
Ordained: June 16, 1937
Died: Jane 17, 1979
Father Vincent W. Walsh (U. S. Region) died on the feast of Corpus Christi, June 17, 1979, at approximately 4:00 p.m., the day after his forty-second anniversary to priesthood. While vacationing at the home of his sister Nellie in Webster City, Iowa.
Born in Williams, Iowa, on January 10, 1910, Vince was one of nine children of Katherine Cornisky and John Walsh. After completing Williams Public High School, he entered Columbia College in Dubuque, where he was inspired to join Maryknoll through contact with Charles Steinbach and his Maryknoll brother, Father Frederick Steinbach.
Ordained June 16, 1937, Vince was assigned to Wuchow, where his mission career was cut short because of the war and of sickness resulting from internment. Returning to the United States in 1942, Vince gradually adapted to the limitations imposed by chronic poor health and numerous operations.
Vince's personal writings evidence the profound influence of sickness and death throughout his life – from the untimely death of his mother and brother, through the prolonged sickness of his father, to his own continual struggle to maintain his health while continuing his ministry. He found the proper balance most of all during the past dozen years in his apostolate at St. Patrick's Parish in Largo, Florida.
Considered the faithful servant, Vince was constancy personified in guiding the Knights of Columbus and in caring for the sick at the local hospital and nursing homes. His devotion to Mary took root and flourished in the weekly Sodality which grew under his direction from a membership of twelve to seven hundred and fifty.
Mass was celebrated for Vince at 10:30 a. m. on Wednesday, June 20th, at Saint Thomas Aquinas Church, Webster City, Iowa. Vince was returned to Maryknoll on Thursday, June 21st, where Vespers were recited and the Mass of Resurrection and funeral followed on June 22nd. Father John Joyce, a classmate, will be the principal celebrant; Father Edward Manning will be the homilist. A Memorial Mass was celebrated on June 23rd at Saint Patrick's Church, Largo, Florida.
On the morning of his death, Vince remarked to the parish priest how important the Sacrament of Anointing was to him. That afternoon, Vince received the sacrament conditionally from the same fellow priests.