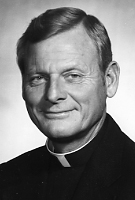 Father W. Robert Golish, MM
Born: February 11, 1924
Ordained: June 13, 1053
Died: May 22, 2014
Father W. Robert Golish died on May 22, 2014 at St. Teresa's Residence, Maryknoll, New York.  He was 90 years old and a Maryknoll priest for 60 years.
William Robert Golish was born in Los Angeles, California, on February 11, 1924, son of William Robert and Ida Rita Kierstead Golish, one of four children.  He attended the Pinewood Avenue Grammar School in Tujunga, California, Verdugo Hills High School and graduated from Cathedral High School in June, 1942.  As a seminarian for the Archdiocese of Los Angeles he attended Los Angeles Junior Seminary for one year and in September, 1943 entered Maryknoll Junior Seminary, Los Altos, California.  He then went on to Maryknoll Apostolic College (Venard), Clarks Summit, Pennsylvania in September, 1944.  He received his Bachelor of Arts degree in Philosophy in 1948 at Maryknoll Seminary, Maryknoll, New York and was ordained a priest on June 13, 1953.
After ordination, Father Golish was assigned to the Maryknoll Mission in Peru, South America.  He began teaching at San Ambrosio School together with pastoral ministry in the San Juan Bautista Parish in Puno and in the Parish of Azangaro.  After a year, he was appointed Assistant Pastor of the new Maryknoll Parish of Cerro Colorado in Arequipa.  In 1957 he was moved back to San Juan Bautista Parish in Puno, where he was in charge of the School and hospital ministry in addition to his regular parish duties.  Much of his ministry was among the Aymara Indians.  His ability in languages enabled him to communicate well in Aymara.
While on home furlough in 1959, he was assigned to the Promotion Department and served in the Chicago and Los Angeles Houses for two years.  On May 29, 1961 Father Golish was appointed Promotion Director in San Francisco, California and also served as West Coast Area Director for nine years.
In September 1970 Father Golish was assigned once again to the Maryknoll Mission in the Altiplano area in Peru.  After a language renewal course in Maryknoll Language School in Cochabamba, Bolivia, he took up parochial ministry as Pastor of Parroquia De Nuestra Señora Del Pilar in Arequipa.  In those years he was instrumental in establishing the Team For Human Development.  This was a group of committed lay leaders formed to train Basic Christian Community leaders among the people in the various Peruvian "New Towns".  The Team still continues its work in the Lima area with its five basic programs: for children; for women; for health and education; for communal and cultural activities; and for civil law as it affects the family and community services.  Father Golish was animator and spiritual director of the group and secured financial support for them from both local and foreign sources.  In 1977 he participated in the Maryknoll Mission Renewal Program at Maryknoll, New York, and returned to Peru.  In 1978 he was appointed Pastor of the Yunguyo Parish on the Peruvian Altiplano.
Father Golish volunteered for and joined the new Maryknoll Brazil Mission Unit on October 1, 1983 in the Eastern Zone of Sao Paulo.  He gained a good knowledge of the Portuguese language and Brazilian culture and engaged in the work of the Unit for five years.  On October 10, 1988 he was appointed Assistant Procurator General with residence at Collegio Maryknoll, Rome, Italy.  The first year in Italy gave Father Golish time to study the Italian language, to meet people from missionary congregations based in Europe and to facilitate Maryknoll's affairs with the Vatican.  On June 1, 1990 he was appointed Procurator General of the Maryknoll Society.
After leaving Rome in 1994 and taking a sabbatical and renewal courses, Father Golish was assigned to the Andean Region, specifically Peru, in January, 1996.  He remained there until February 1997 when he was assigned to the United States.  Shortly thereafter, he began work at Holy Spirit Parish in San Diego, California where he ministered to the parish's Hispanic community.  Father continued in this ministry until failing health necessitated his move to St. Teresa's Residence in September, 2001.  He was assigned to the Retirement Community in April, 2006.
Wake services were held at 4:30 p.m. on Thursday, May 29, 2014 at St. Teresa's, and at 7:30 p.m. in Queen of Apostles Chapel at Maryknoll Center where Father John J. Sullivan officiated and Father Richard Aylward read the biography.  Mass of Christian Burial was concelebrated in Queen of Apostles Chapel on Friday, May 30, 2014 at 11:00 a.m.   Father Michael Zunno was Principal Celebrant and homilist.  Burial followed in Maryknoll Society Cemetery with Father Edward McGovern conducting the graveside service.