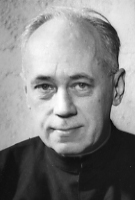 Father Walter J. Coleman, MM
Born: July 19, 1896
Ordained: September 10, 1922
Died: November 10, 1948
Walter J. Coleman was born on July 19, 1896 in Chippewa Falls, Wisconsin. A graduate of St. Thomas College in St. Paul, he studied for the diocesan priesthood at St. Paul Seminary until an interest in the missions led him to enter Maryknoll in 1921 at the end of his third year of Theology.
Following his ordination on September 10, 1922, Father Coleman was appointed to the seminary faculty as professor of Fundamental Dogma. Later, in order to complete graduate studies in Canon Law, he attended the Gregorian University in Rome, and Catholic University in Washington, D.C. During 1928 – 1929 he undertook to teach himself Library Science and soon began the organization of the Maryknoll Library.
Eight years after ordination, Father Coleman was assigned to Korea. His background in Theology and Canon Law made him a most valuable Chancellor for the Prefecture of Peng Yang and also a capable missioner in the district of Chung Hwa and its outlying stations.
In 1935 Father returned to the States, taking up temporary teaching activities at the Venard and Los Altos. During this time he became aware of an illness. In 1940 he joined the Public Relations Department and in 1943 was named Librarian at the major seminary. In spite of his illness he devoted himself generously to the many duties of this office for the succeeding five years, continuing his work even after his physician had notified him in 1947 that he had but another year to live.
On the evening of November 9, 1948, Father Coleman suddenly fell ill. The priests who brought him to his room found a Ritual on his desk already opened to the Extreme Unction prayers, indicating that Father must have had some premonition of the end. He was anointed and brought to the Ossining Hospital where he lingered until the following morning. Funeral and burial were at Maryknoll on November 12th.