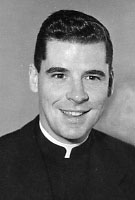 Father Walter J. Gleason, MM
Born: September 9, 1923
Ordained: June 11, 1955
Died: June 20, 1983
On the 10th of May of this year Father Gleason was appointed the new Regional Superior of the Kenya Region, to take effect October 1, 1983. In his letter of appointment by the General Council it was stated: "The General Council offers you our congratulations on this evidence of esteem and confidence the men in the Region have shown in you. Be assured also that we likewise have full confidence in your personal qualities and talents, as well as your dedication and loyalty as a Maryknoller, in this new role of service to the Society. We feel sure your many years of experience in Africa will prove helpful to you in carrying out your responsibilities successfully."
The Burial Mass took place on Thursday, June 23 at the Umoja Catholic Church where Father Walter had been working. Principal Concelebrant was Father William Madden and Homily given by Father Alan Smidlein. Burial took place at St. Austin Cemetery in Nairobi(where many other African missioners are buried) with prayers at the gravesite by Fr. Joseph Corso.
Father Gleason was born in Columbus, Ohio to Joseph Gleason and Helen Mattoon on September 9, 1923. His college and university studies took place at Hobart College in Geneva, N.Y. and the University of Michigan, Ann Arbor. He served in the Army Air Corps for three years and received an Honorable Discharge as a Sergeant in December, 1945. At the age of 23 he applied to Maryknoll, expressing a wish to proclaim God's Word to help others with their spiritual and physical needs and to devote his life to God and his fellow beings. He was accepted by Bishop Raymond Lane and entered the Venard for special studies in September, 1945. He continued his studies at Lakewood before he came to the Major Seminary. Ordained on June 11, 1955, he was assigned to the African Region and began work in Musoma, a small town in the northwestern part of Tanzania. He continued to work in this Region until 1979 when he was assigned to the new Kenya Region. On the 5th of May, 1983 he was appointed the Regional Superior, which was to take effect on the first of October.
While a student in the seminary, Father Gleason loved to teach and showed his expertise by teaching Gregorian Chant to his fellow students. As a young missioner, he was characterized by his superior as "a very good missioner – kind and considerate of all — easy to live with – takes his work seriously and does it well — he should develop into one of our best — his judgments are good and he has lots of zeal." Father Gleason had a good all — around ability, an even disposition, and enjoyed the respect of all.
A Memorial Mass was celebrated at the Center on June 22nd with Father Thomas Keefe as Principal Concelebrant, the Homily by Father James Weckesser, and the Biography read by Father Morgan Vittengl.
We are indeed saddened to lose at the age of 59, a good and talented priest from our Maryknoll Family. May he now have the joys of everlasting peace with Jesus, the Lord.