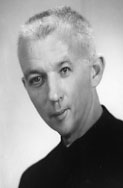 Father Walter J. Maxcy, MM
Born: April 8, 1920
Ordained: June 15, 1947
Died: July 6, 2009
Father Walter J. Maxcy died on July 6, 2009 at St. Teresa's Residence. He was 89 years old and a Maryknoll priest for 62 years.
Father Walter John Maxcy was born on April 8, 1920, in New Rochelle, New York, one of six children born to Lloyd and Mary Sullivan Maxcy. He attended St. Gabriel's High School in New Rochelle and after graduation entered Maryknoll in September 1938.
Father Maxcy was ordained on June 15, 1947, and assigned to development work in New York City. One of his tasks in this capacity was to speak on vocations in the schools of various dioceses. The Superior General wrote to Father Maxcy, "Your zeal is an encouragement to all of us." He spent eight years in the New York area and was then assigned to the same work in the Boston area. After eleven years of very successful development and vocation work, he was assigned to the Maryknoll Mission in Mindanao, Philippines. His Departure ceremony took place on June 15, 1958. Father Maxcy wrote from his first mission in Panabo, "The people here have the great quality of making everyone welcome. Too bad the innkeeper at Bethlehem was not a Filipino, — there is always room for one more in the jeep, one more mouth to feed – nobody is a stranger." (And no one practiced this virtue of hospitality better than Father Maxcy did!)
Father Maxcy's years of promotion work helped him to build Santo Tomas High School in the new parish of Santo Tomas, which he founded. He became the Founding Father of several parishes in Mindanao: Santo Tomas, Bato-Bato, Maragusan and Laac. His motto was primum vivere. What he really meant by this was that before any organizing efforts, a missioner should just live with the people and get to know them. These efforts paid off for him. He had the reputation in the Philippine Region of being the missioner who was the closest to the people wherever he went. In 1975, he was appointed Third Assistant to the Regional Superior. From 1981 until 1984, he again did development work in the New York area. After his 1984 return to the Philippines, he worked in the Diocese of Tandag in the Burgos parish and later in the Archdiocese of Davao in the Obrero parish.
The late Bishop Joseph Regan, M.M. wrote of Father Maxcy, "A good missioner… tries to live like the people… seems to get on well with everybody." Father Maxcy served as Chaplain to the Davao Medical Center (the Regional Hospital) for many years, and he also assisted the Region as Director of the MILC (Maryknoll Institute of Language and Culture).
Father Maxcy received the Bukas Palad award at the Ateneo de Manila in 2002. He was cited as "the joyful missioner whose life demonstrates his personal mission to make all Filipinos feel at home in the Church." Father remained in the Philippines until July 2005 when he was assigned to the Retirement Community and moved to Maryknoll, New York where he resided until a short time before his death when he moved to St. Teresa's Residence.
Wake services were held at 4:30 p.m. on Wednesday, July 8, 2009, at St. Teresa's, with Fathers Thomas McDonnell and Gerald Nagle officiating, and at 7:30 p.m. in Queen of Apostles Chapel at Maryknoll Center where Father Thomas McDonnell officiated and Brother Eugene Casper read the biography. Mass of Christian Burial was concelebrated in Queen of Apostles Chapel on Thursday, July 9, 2009, at 11:00 a.m. Father Clyde Phillips was Principal Celebrant and Father James Noonan, homilist. Burial followed in Maryknoll Society Cemetery with Father Jose Aramburu conducting the graveside service.