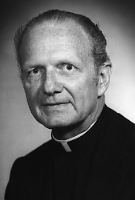 Father Walter T. Kelleher, MM
Born: June 1, 1929
Ordained: June 9, 1956
Died: November 7, 2011
Father Walter T. Kelleher died on November 7, 2011 at St. Teresa's Residence. He was 82 years old and a Maryknoll priest for 55 years.
Walter Thomas Kelleher was born on June 1, 1929 in the Bronx, New York, the eldest of three sons born to Walter and Mary Agnes Young Kelleher. Upon graduation from St. Ann's Academy High School, he entered Maryknoll at Lakewood, New Jersey, in September 1947 from St. Helena's Parish in the Bronx. He received a Bachelor of Arts degree in Philosophy in 1951; a Bachelor of Sacred Theology degree in 1955; and a Master of Religious Education degree in 1956, all from Maryknoll Seminary, New York.
Following ordination on June 9, 1956 at Maryknoll, New York, Father Kelleher was assigned to Japan. After two years in language schools in Tokyo and Kyoto, he worked for the next four years in Hokkaido, 'snow country' in northern Japan.
In 1962 he was assigned back to the United States as assistant to the late Father James Keller, M.M., founder of 'The Christophers', a multimedia effort out of New York City. Then from 1963 to 1965 he was assigned to Maryknoll's Development Department, working out of the New York City Promotion House.
In 1965 Father Kelleher was again assigned to Japan. As a refresher in the language, he studied Modern Japanese Literature at Columbia University in New York City. After five more years in Hokkaido, Father Kelleher became one of the assistant directors of the 'Good Shepherd Movement', another multimedia effort, this time based in Tokyo and Kyoto.
From 1974 to 1978 Father Kelleher was once again assigned to Development work, this time in New Jersey and Seattle, Washington. During this time he was diagnosed with M.S. (Multiple Sclerosis), and he volunteered to return to Japan to use the language as long as possible. This dictated work in the south of Japan, where the climate is warmer. He taught in the Prefectural University in Okinawa, as well as at Christ the King School where he served as Chaplain.
In 1984 Father Kelleher returned to the United States and Maryknoll's Japanese Mission in Los Angeles, California. He volunteered to return to Development work in New Orleans, Louisiana in 1987; however, two years later he spent six months as temporary Director of the Office of Justice and Peace, located at Maryknoll, New York.
Father Kelleher joined the Special Society Unit in February 1989 and helped out in the Archdiocese of New Orleans until 1993, when he moved to the Maryknoll Residence in Los Altos, California. He returned to Japan in September 1996, working there until January 2000 when he joined the Retirement Community and moved to his final home, St. Teresa's Residence, Maryknoll, New York.
Wake services were held at 4:30 p.m. on November 10, 2011 at St. Teresa's, and at 7:30 p.m. in Queen of Apostles Chapel at Maryknoll Center where Father Emile Dumas officiated and Father John Keegan read the biography. Mass of Christian Burial was concelebrated in Queen of Apostles Chapel on November 11, 2011 at 11:00 a.m. Father Michael Zunno was Principal Celebrant and homilist. Burial followed in Maryknoll Society Cemetery with Father Dougherty conducting the graveside service.