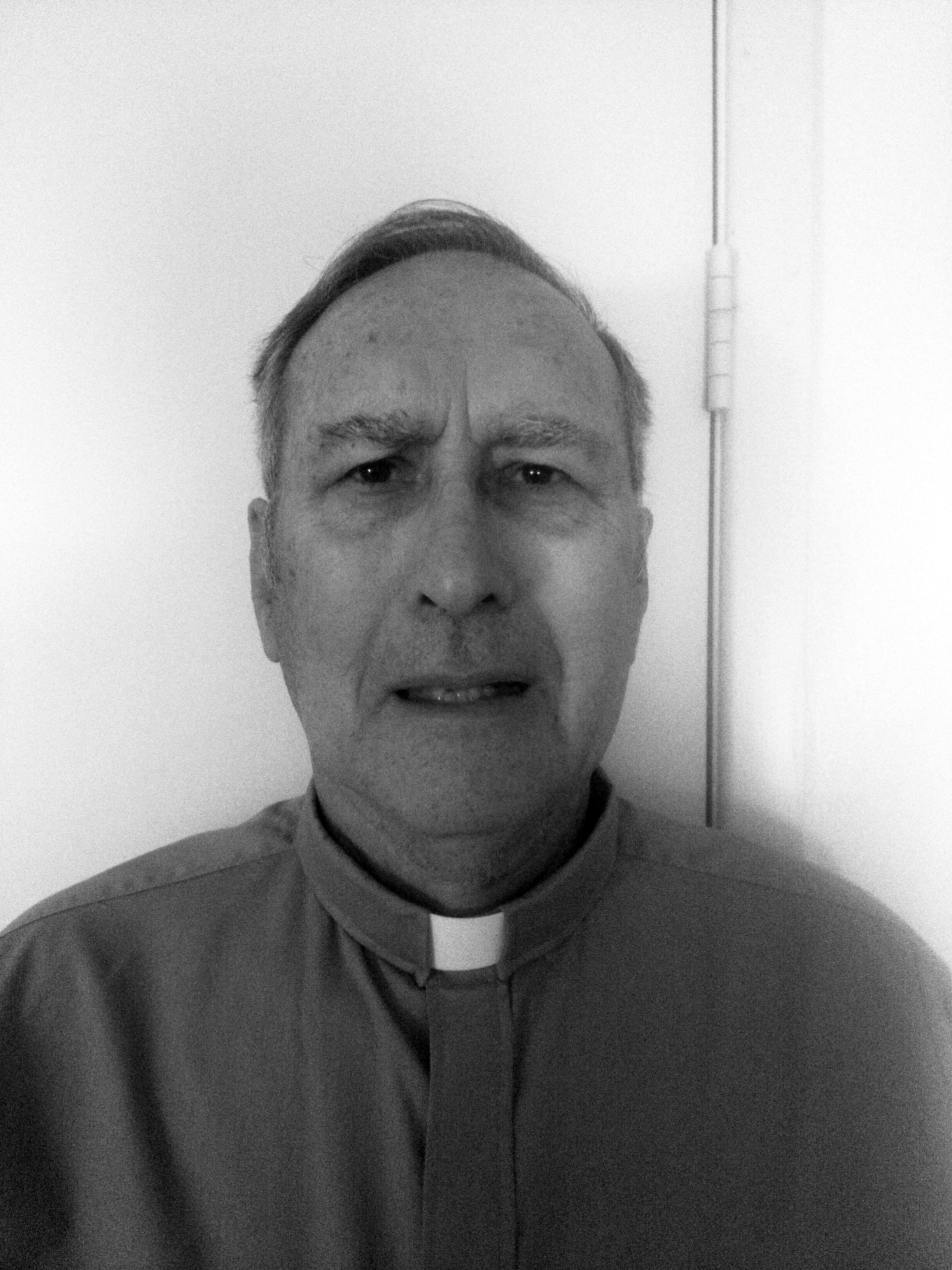 Father Wayne T. Weinlader, MM
Born: May 12, 1936 Ordained: December 21, 1968 Died: January 8, 2018
Father Wayne T. Weinlader died on January 8, 2018 at Eckstein Center/Hospice of the Valley in Scottsdale, Arizona.  He was 81 years old and a Maryknoll priest for 44 years.
Wayne Thomas Weinlader was born on May 12, 1936 in Chebanse, Illinois, son of Raymond and Alice Keliher Weinlader.  He had two brothers and two sisters. He graduated from Central High School in Clifton, Illinois in June 1954.  Father Weinlader served in the United States Marine Corps from 1955 to 1959 and attained the rank of Sergeant.  After discharge in September 1959, he worked as an Electronics Technician for RCA in Greenland, where he serviced the NORAD (North American Aerospace Defense System) until becoming a seminarian for the Diocese of Jefferson City, Missouri in 1962.  He received his Bachelor of Arts degree in Philosophy at Cardinal Glennon College, St. Louis, and his Master of Divinity degree at St. Louis University.  He was ordained a priest for the Diocese of Jefferson City on December 21, 1968. Father Weinlader would have celebrated his fiftieth jubilee of ordination to the priesthood in June 2018.
Since Father Weinlader had joined the Diocese of Jefferson City to participate in their foreign mission program operating in Peru, South America, he was immediately assigned to their mission parish in Capachica, Peru upon ordination.  While working in this parish, Father Weinlader also assisted the Maryknoll Fathers and Brothers in the operation of their radio and television stations in nearby Puno, Peru.
In 1973, with the permission of his Bishop, Father Weinlader applied for incardination into the Maryknoll Society.  He was assigned to the Maryknoll Mission in Peru as an Associate Priest, working at the Catholic University in Lima, building a Radio/TV/Film Center for the University and training the local personnel to operate it. In 1976, Father Weinlader returned to the United States and earned a Master of Arts degree in Educational Radio and Television Production at the University of Missouri.  During this year at home, he also took his Permanent Oath to the Society on May 30, 1976.  From 1977 to 1979, he worked in media projects for the local churches in Venezuela, Colombia and Panama.
In February 1980, Father Weinlader was assigned to the United States Region to work in the Center for Mission Studies at Maryknoll, New York.  In October 1980, with the permission of the Superior General, Father Weinlader accepted a three-year assignment to active duty as a Navy Chaplain.  Upon completion of the three-year Navy assignment in November 1983, he was assigned to the Maryknoll Mission Region in Bolivia and spent six months in the Pando Vicariate.
In August 1984, he was permitted to return to active duty as a Navy Chaplain for an indefinite period.  As a Navy Chaplain his assignments were with the Marines on Okinawa; Aircraft Carrier America CC-66; Marine Corps Boot Camp; Aircraft Carrier Constellation CV-64; Marine Corps Air Station, Yuma, Arizona; with the Marines in the Persian Gulf during the war in 1990-1991; with the Marines again on Okinawa.  Father Weinlader then served as a Commander in the Chaplain Corps at Naval Station, San Diego, CA until illness necessitated his retirement to Arizona in 1995.  At that time, Father Weinlader had served almost half of his priesthood in the missions and half as a Navy Chaplain.
Although assigned to the Retirement Community in February 2001, in 2004 Father started a new missionary career in Namibia where he established, directed, and financially supported a soup kitchen in the Vicariate of Rundu, daily serving some 250 orphaned and homeless children of families devastated by the AIDS epidemic. He found much gratification with this phase in his life. While in Namibia, he created a website putting the Catholic Church facilities throughout the country online.
Father Weinlader returned to the United States in 2010 and resided in Yuma, AZ. In 2016, Father relocated to Scottsdale. Friends and family members knew Father Wayne to be extremely generous with his time, talent, and treasure.  In a note to his siblings regarding the discovery of his illness, he said that he had no fear of death and that he had spent his life in the service of God and his fellow man. Many benefitted from his sacred, compassionate, and benevolent attitude toward life.
Father Wayne was laid to rest in St. John Nuemann Catholic Church in Yuma, AZ. A memorial Mass is scheduled there for May 20, 2018, where he was the chaplain of the Hispanic Community for many happy years. A memorial Mass will be celebrated also at Maryknoll, New York at a later date.