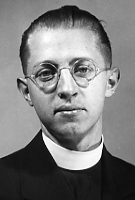 Father Wenceslaus F. Knotek, MM
Born: August 26, 1914
Ordained: June 22, 1941
Died: December 14, 1998
Father Knotek died at St. Teresa's Residence in the afternoon of December 14, 1998. He was 84 years old and a Maryknoll priest for 57 years.
Wenceslaus was born in Racine, Wisconsin on August 26, 1914, one of twelve children born to Cyril and Josephine Mostek Knotek. He graduated from St. John's grammar school in Racine and attended St. Catherine's High School for two years, after which he entered St. Francis Seminary. Upon completion of four years at St. Francis, Father Knotek entered Maryknoll Apostolic College (Venard) Clarks Summit, Pennsylvania in 1934, bringing with him not only a full classical background, but a special talent for electrical and mechanical activities. He soon joined other enterprising students in numerous renovations in the physical plants at the Venard, at Maryknoll Bedford Novitiate, and at Maryknoll Center in New York.
After ordination on June 22, 1941, Father Knotek was assigned to Maryknoll mission in Kweilin, South China. Travel difficulties delayed his arrival in Hong Kong just enough for him to be caught by the Japanese invasion on December 8, 1941. After almost a year in the Stanley Internment Camp, Father Knotek was released and proceeded on to his mission in Kweilin. Except for a year spent in India recovering his health, he remained in China, working in Kwangsi, until expelled by the Communists in 1951. Arriving in Hong Kong in June 1951, Father Knotek was initially assigned to Japan, but in August this assignment was changed to Formosa (present-day Taiwan). Father Knotek was working with Japanese-speaking aborigine mountain people in Taiwan and while on furlough in 1963 he took Japanese language courses at the University of Chicago so that he might better help and understand these people. One of Father Knotek's accomplishments was in establishing Twin Cliffs Carpentry School for boys, where each boy was given his own set of tools and a two-year course in carpentry, thus enabling them to learn a very useful trade. Father Knotek later moved to work at the Tung Shih Catholic Mission in Taichung county, and remained in Taiwan until September 1988, when he was assigned to the Special Society Unit, with residence at Los Altos, California. In early December 1998, he moved to St. Teresa's Residence where he was living at the time of his death.
Wake services were held at 7:00 pm on December 17, 1998 at St. Teresa's and at 7:30 pm at Queen of Apostles Chapel at Maryknoll Center where Father David Walsh officiated and Brother Michael Greyerbiehl read Father Knotek's biographical letter. Mass of Christian Burial was concelebrated at Queen of Apostles Chapel on December 18, 1998 at 11:00 am Father James. Collignon was Principal Celebrant and Father Michael Sloboda was homilist. Burial followed at Maryknoll Center Cemetery with Father Jeremiah Burr conducting the graveside service.