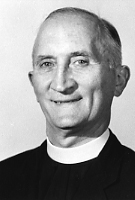 Father Wilbur J. Borer, MM
Born: November 9, 1897
Ordained: June 15, 1924
Died: May 9, 1982
On June 24, 1974 Father Borer wrote these words to Father Raymond Hill: "The French missioners of former days said that the ideal of a missioner is to die a martyr at 80. Since the Lord has given me very good health, I hope to keep on the job until that time, and we can leave the second part to Him."
Father Wilbur Borer almost fulfilled this saying of the French missioners. At the age of 79, in 1976 he retired to St. Teresa's and there he lived until his death on May 9th.
On the 9th of November, 1897, Father "Bill" was born to Johanna Newman and Emile Borer in Brooklyn, N.Y. After having completed his elementary schooling he attended Erasmus Hall High School in Brooklyn and then went on to St. Francis Xavier College where he obtained an A.B. Degree. During his college years he taught school, worked in the printing business and took a position with National Airlines. On January 31, 1920 he entered Maryknoll at Ossining. He himself tells us that the idea of being a missioner first came to him through a lecture on the African Missions, by reading a magazine called "The Missions", and through the pastor of his parish.
After ordination he attended Catholic University of America in Washington, D.C. where he obtained his STB Degree. His first assignment was to the Venard Faculty in 1926 where he was to teach various subjects over a period of years in between mission assignments. In 1931 he was named Rector of the Venard. In 1934 he was assigned to Peng Yang, Korea. In 1942 he returned home on the Gripsholm and was again assigned to the Venard Faculty where he remained until he went to Lakewood Junior College. There he taught Chemistry and was later named Spiritual Director. He was again assigned to Korea in 1953 and remained attached to this mission until his retirement in 1976.
At the time of his death Father Borer had been a priest for 58 years. In whatever assignment he had he showed a great deal of energy and never spared himself. He was a model of priestliness with all its fine points of zeal, selflessness, piety and charity. He was an inspiration to many young missioners and a confessor to many of them. Bishop John Comber wrote of him: "Father Borer is an excellent missioner in every way. He preaches every Sunday and is extremely zealous and careful about detail. I think he is one of the outstanding missioners we have and a splendid example to the younger men. He could be shown anywhere, anytime, as a fine ideal of what Maryknoll Missioners should be."
Father Borer's undying dedication is readily seen from a quotation from one of his letters: "The evidence of the workings of God's grace among the Korean people is very clear and numerous. Many of our catechumens are very fervent and after baptism nearly all receive the Sacraments frequently. Our approach is a direct religious one, and no material advantage is offered to prospective converts. Consequently, we get sincere converts and we have practically no tepid Catholics. This method suffices, if one has good catechists. In this little parish I had 152 baptisms for the past year, exclusive of the baptisms of the children of Catholics and of those in danger of death, and I expect a larger number next year since we have an ever increasing number of catechumens. The perseverance of our catechumens is excellent.
The wake for Father Borer took place at the Seminary on Tuesday evening, May 11th, and was conducted by Father John Corcoran. Father Joseph Slaby read the biography; Fr. William T. O'Leary was Principal Celebrant and the homily was given by Father Patrick Bergin. After Mass the graveside service was conducted by Father John Cioppa.
The zeal of Father Borer has been an inspiring example to all who have come in contact with him. We thank God for this dedicated, zealous priest who gave so many years of his life to Maryknoll and to the Korean people.
Zeal for Your house consumes me.(Ps. 69; 10)