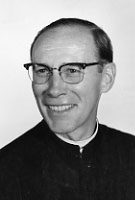 Father William A. Bergan, MM
Born: October 27, 1914
Ordained: June 21, 1942
Died: December 7, 1995
Father William Bergan died at Maryknoll Residence, Los Altos, California, in the evening of Thursday, December 7, 1995. He was 81 years old and a Maryknoll priest for 53 years.
Father Bergan was born on October 27, 1914 in New Britain, Connecticut, son of John F. and Margaret Mary Glennon Bergan. There were four boys and three girls in his family. He attended the Plainville, Connecticut, Grammar School for nine years and the Plainville High School for one year. He entered Maryknoll Apostolic College (Venard), Clarks Summit, Pennsylvania on September 7, 1930 and was ordained a priest at Maryknoll Seminary, New York, on June 21, 1942.
After ordination, Father Bergan was assigned to studies at the Catholic University of America, Washington, D.C., to secure an advanced degree in philosophy. Having obtained his Master of Arts degree, he was assigned to the Maryknoll Novitiate faculty in Bedford, Massachusetts, on January 11, 1944, where he taught for one year. Then he was transferred to Maryknoll Seminary in New York to teach logic, ethics and philosophy. In 1949, he was assigned to Maryknoll Junior College at Lakewood, New Jersey, for one year and then transferred to the Maryknoll College faculty at Glen Ellyn, Illinois, where he taught philosophy for three years.
In September of 1953, Father Bergan was assigned to the Maryknoll Mission Region of Peru, South America. After language studies, he served as an assistant pastor in San Juan Parish in the city of Puno, for two years; then as assistant pastor of Santa Rosa de Lima, in Lima, for two years; and finally as pastor of the Huancane parish for five months. This is a large, rural parish at the north-eastern end of Lake Titicaca. On September 30, 1957 he was appointed Regional Superior for the Peru Mission Region and reappointed for a second term in June 16, 1962. As Regional Superior, he attended the Fifth General Chapter at Maryknoll, New York, in 1966. During the Chapter, he was elected Vicar General of the Maryknoll Society.
When he completed his term of office as Vicar General, he returned to the Peru Mission Region on April 1, 1973. While on Home Leave in 1976, he was assigned to the U.S. Region as assistant to the Director of St. Teresa's Residence at Maryknoll, New York, and served there for three years.
On September 17, 1979, Father Bergan was assigned to the Maryknoll Mission Region in Hawaii. He served as assistant pastor of Immaculate Conception Parish in Holualoa on the Island of Hawaii for three years. It was a large parish with three mission churches where people were scattered over a wide area of coffee fields and tourist beaches. On September 1, 1982, he was appointed Pastor of St. Anthony Parish in Papaaloa on the Hamakua Coast of the Island of Hawaii. This parish had only one mission church in Ookala. He served there for six years.
On January 1, 1989, at age 75, Father Bergan was enrolled in the Special Society Unit with residence at Maryknoll Residence, Los Altos, California, where he remained until his death.
Father Bergan was known for his logical mind and his soft-spoken manner. A philosopher by inclination and training, his hobbies tended toward the technical: radio, Hi-Fi sound systems and television – to the extent of building a TV set from a kit in the 1950s, the early days of television.
As one Superior wrote of him, he was a "true Christian gentleman, at peace with himself, who is always there at the service of others in a calm way – effective as much in presence as through action."
Wake services for Father Bergan were conducted by Father Thomas Keane in the Chapel of Maryknoll Residence, Los Altos, California on Sunday evening, December 10, 1995. Fr. John McCabe was principal celebrant and Fr. Edward Moore was homilist at the concelebrated Mass on Monday, December 11th, at 11:00a.m. Father James Connell read the biography letter. Graveside services were conducted by Father Moore in the Maryknoll Society Cemetery at Maryknoll Residence, Los Altos, California.