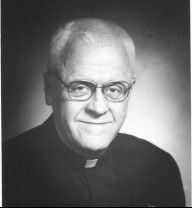 Father William B. Frazier, MM
Born: May 28, 1929
Ordained: June 9, 1956
Died: March 23, 2019
Father William B. Frazier died on March 23, 2019 at the Maryknoll Society Center in Maryknoll NY.  He was 89 years old and a Maryknoll priest for 62 years.
William Barrett Frazier was born on May 28, 1929 in Des Moines IA, son of William and Esther Barrett Frazier. Bill attended Dowling High School and spent one year at the University of St. Louis before entering Maryknoll in June 1948. He received his Bachelor of Arts degree in Philosophy in 1951, his Bachelor of Sacred Theology degree in 1955, and his Master of Religious Education degree in 1956.  Fr. Frazier was ordained at Maryknoll NY on June 9, 1956.
Following ordination, Fr. Frazier pursued higher studies in Rome, where he received his Doctor of Sacred Theology degree in Dogmatic Theology from the Angelicum University in 1959.  He was then assigned to the faculty at Maryknoll College Seminary in Glen Ellyn IL, where he taught for eleven years, serving as Vice Rector from 1967 through 1970.
In the summer of 1970, Fr. Frazier was assigned to the faculty of Maryknoll School of Theology, Maryknoll NY.  He spent September 1977 through June 1978 as a Visiting Scholar at Harvard University before returning to New York.  He continued teaching until June 2004.
Fr. Frazier served as a United States delegate to the General Chapter of the Society in 1996.  For many years, he was assigned to the Department of Society Member Services, where his primary involvement was with MissionPath.  He also served on the Board of Trustees of the Maryknoll Missionary Education Trust.
Fr. Frazier's entire priesthood was dedicated to teaching.   On June 1, 1995, he was awarded the Mission Cross in honor of his mission commitment, mission vocation and mission accomplishments.  He was assigned to the Senior Missioner Community on February 1, 2019.
A Rosary and wake service was held on April 11, 2019 in the Holy Spirit Chapel at the Maryknoll Society Center.  Fr. Frazier's remains were transferred to the Lady Chapel on April 12, 2019 where his family received condolences and prayers.  The biography was read by Father Gerald Persha.  Mass of Christian Burial followed and was concelebrated in Queen of Apostles Chapel.  Father John Keegan was both Principal Celebrant and homilist. Burial followed in Maryknoll Society Cemetery.