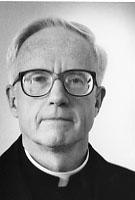 Father William D. McCarthy, MM
Born: May 30, 1930
Ordained: June 9, 1956
Died: April 30, 2009
Father William D. McCarthy died at Westchester Medical Center, Valhalla, New York on April 30, 2009. He was 78 years old and a Maryknoll priest for 52 years.
William Daniel McCarthy was born on May 30, 1930 in Bay City, Michigan, son of William and Mary Brophy McCarthy. He studied at St. Joseph Minor Seminary, Grand Rapids and entered Maryknoll in September 1947. He received a B.A. degree in Philosophy from Maryknoll College, Glen Ellyn, Illinois in 1951, and a Master of Religious Education degree from Maryknoll School of Theology, Maryknoll, New York in 1956.
After ordination on June 9, 1956 at Maryknoll, New York, Father McCarthy was assigned to graduate studies at the Gregorian University in Rome, where he earned a Licentiate degree in Church History. Upon completion of these studies in 1962 he was assigned to the faculty of Maryknoll's Major Seminary, where he served for 18 years. During a sabbatical in 1978-1979 he was a research fellow at the Yale University Divinity School, doing research in Mission History.
In 1980, Father McCarthy was assigned to Maryknoll's Peru Region, where he served with a team developing Basic Christian Communities in the outskirts of the capital city, Lima. He also taught Church History at Guadalupe Major Seminary in Juliaca in the Altiplano of Peru. From October 1983 through September 1989, he served as the Maryknoll Regional Superior in Peru. In 1984 he participated in the Eighth General Chapter of the Society.
In 1996 Father McCarthy was named Executive Director of the Center for Mission Research and Study at Maryknoll, New York. Since completion of his term he had been serving as a senior researcher in the area of Maryknoll history. This had involved assisting in the Society's oral history project, writing reference articles for the New Catholic Encyclopedia (2000), and teaching courses on Maryknoll history for candidates of the Maryknoll Society, the Sisters' Congregation and Maryknoll Lay Missioners. At the time of his death, Father McCarthy was preparing documentation for the presentation of the causes for canonization of two of the founders of Maryknoll, Bishop James A. Walsh and Father Thomas F. Price.
Wake services were held at 4:30 p.m. on May 4, 2009 at St. Teresa's, and at 7:30 p.m. in Queen of Apostles Chapel at Maryknoll Center where Father John Keegan officiated and Father Ernest Lukaschek read the biography. Mass of Christian Burial was concelebrated in Queen of Apostles Chapel on May 5, 2009 at 11:00 a.m. Father Clyde Phillips was Principal Celebrant and Father John J. Casey, homilist. Burial followed in Maryknoll Society Cemetery with Father Paul Masson conducting the graveside service.