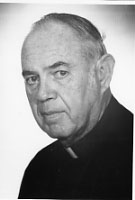 Father William F. Daley, MM
Born: October 4, 1928
Ordained: June 9, 1956
Died: February 18, 2008
Father William F. Daley died at St. Teresa's Residence, Maryknoll, New York on February 18, 2008. He was 79 years old and a Maryknoll priest for 51 years.
William Francis Daley was born October 4, 1928, in Lawrence, Massachusetts, son of William and Mary Kennedy Daley. He attended the Grammar School of St. Mary's Parish, and after graduation from Central Catholic High School in 1946, he joined Maryknoll.
He received a B.A. in Philosophy in 1951, an S.T.B. in Sacred Theology in 1955, and an M.R.E. in Religious Education in 1956, all from Maryknoll School of Theology, New York.
After ordination on June 9, 1956, Father Daley was assigned to the Diocese of Musoma in Tanzania, East Africa. In those days it was Maryknoll's practice to study local languages, and he was assigned to study Dholuo and work in Maryknoll's Luo parishes in Musoma. Father Daley spent his entire mission career working in Tanzania.
Father served as Assistant Regional Superior of the Africa Region from February 1976 to March 31, 1978. In April 1978, he was elected Regional Superior of the Africa Region and when the Region was divided into two Regions (Tanzania and Kenya), he was the Superior of Tanzania until 1984.
In April 1999 Father Daley was granted retired status, with continued residence in Tanzania, but returned to the United States in May 2005, and took up residence in St.Teresa's.
Wake services were held at 4:30 p.m. on February 21, 2008 at St. Teresa's, and at 7:30 p.m. in Queen of Apostles Chapel at Maryknoll Center where Father Wayman Deasy officiated and Father James Lehr read the biography. Mass of Christian Burial was concelebrated in Queen of Apostles Chapel on February 22, 2008 at 11:00 a.m. Father Richard Baker was Principal Celebrant and Father Carroll Houle homilist. Burial followed in Maryknoll Society Cemetery with Father John McAuley conducting the graveside service.
Each Maryknoll priest is requested to offer Mass for the repose of the soul of Father Daley; all Maryknollers are requested to remember him in their private and public prayers.