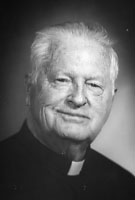 Father William F. Marley, MM
Born: May 7, 1925
Ordained: June 14, 1952
Died: February 9, 2010
Father William Marley died on February 9, 2010 at Westchester Medical Center. He was 84 years old and a Maryknoll priest for 57 years.
William Francis Marley was born on May 7, 1925, in Boston, Massachusetts, son of Thomas and Grace Sullivan Marley. William had one brother, Rev. Thomas Marley, C.S.P. and twin sisters: Mrs. Jeanne McCarron and Mrs. Grace DiModica. He attended St. Joseph's Parochial School in Portland, Maine and graduated from St. James High School in Haverhill, Massachusetts. After attending Notre Dame University, South Bend, Indiana, for a half year, he then entered Maryknoll Apostolic College, (Venard), Clarks Summit Pennsylvania on June 30, 1943. After his Novitiate year in Bedford, Massachusetts, he obtained his Bachelor of Arts degree in Philosophy at Maryknoll Seminary in June 1947 and was ordained a priest on June 14, 1952.
After ordination, Father Marley was assigned to the Maryknoll Mission Region in Bolivia, South America. His first appointment after language study was as assistant pastor of the San Roque Parish in the city of Santa Cruz. There he acquired a good command of the language and concentrated on catechetical work among the people in the rural area of the parish. In 1955 Father Marley was assigned as pastor of the Parish of Saavedra in the north of Santa Cruz. During home leave in 1958 he worked as temporary Chaplain at the U.S. Air Force Base in Rome, New York. He returned to Peru and worked and studied among the Aymara Indians in the Diocese of Juli. Father Marley returned to Bolivia and worked as assistant pastor in the Achacachi Parish. In 1962 while assigned to the Montero Parish to replace a fellow Maryknoller, he came to encounter the work among the Japanese in the Okinawan Colony in Santa Cruz.
Two years later, Father Marley received four Caritas Sisters of Miyazaki, Japan and with them had many converts. During a special leave of absence in 1965 he traveled to Japan and studied the Japanese language in Tokyo. With permission of his Superiors in 1968 he supervised the construction of the present Center House for the Caritas Sisters in Sao Paulo, Brazil. In June 1974 he was assigned to the "Special Council Assignment Group of the U.S. Region," which enabled him to continue his work as Chaplain with the Caritas Sisters' Community in Brazil. He devoted more than 30 years of mission work with them. When the Maryknoll Mission Unit was established in 1975 in Sao Paulo, Brazil, Father Marley was attached to the Unit.
Father Marley served as the chaplain and full-time representative for the Japanese Sisters of Charity in Bolivia, Brazil and Peru. He worked with the Sisters in the formation of new Sisters at their novitiate and House of Studies. In 1980 he supervised the construction of an orphanage in Sao Paulo to be managed by the Caritas Sisters. On weekends he attended to the needs of the Japanese mission in the city of Sao Paulo and also served at a home for aged Japanese established in 1988. Although assigned to the Retirement Community in January 2001, he continued to live and work in Brazil until March 2005, when he returned to the United States and moved to St. Teresa's Residence.
According to Father Marley his more than fifty years of mission life in South America passed very quickly, and because of God's abundant graces, they were most gratifying. To God and to so many good people who have helped him, he was most grateful.
Wake services were held at 4:30 p.m. on February 15, 2010 at St. Teresa's and at 7:30 p.m. in Queen of Apostles Chapel at Maryknoll Center where Father Timothy Graff officiated and Brother Donald Miriani read the biography. Mass of Christian Burial was concelebrated in Queen of Apostles Chapel on February 16, 2010 at 11:00 a.m. Father Joseph La Mar was Principal Celebrant and Father Joseph McGahren, homilist. Burial followed in Maryknoll Society Cemetery with Father Edward McGovern conducting the graveside service.