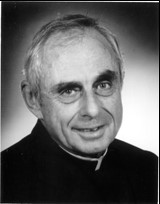 Father William F. Mullan, MM
Born: January 16, 1935
Ordained: June 9, 1962
Died: August 3, 2022
Father William F. Mullan died on August 3, 2022 in the Assisted Living Unit at Maryknoll, New York. He was 87 years old and a Maryknoll priest for 60 years.
William Francis Mullan was born on January 16, 1935 in Jersey City, New Jersey, son of Joseph and Julia Heffernan Mullan. He had three brothers and one sister. He graduated from Good Shepherd Grammar School in Brooklyn, and after attending St. Francis Preparatory High School for one year, he joined Maryknoll at Maryknoll Junior Seminary (Venard), Clarks Summit, Pennsylvania in September 1949. He obtained a BA in Philosophy while at Glen Ellyn (1957) and a STB (1961) and a MRE (1962) from the Maryknoll School of Theology.
Father Mullan was ordained on June 9, 1962, and sent to mission in Guatemala, where he studied the languages and culture of three Mayan Indian groups. His first assignment took him to Jacaltenango where he stayed for twelve years. Learning the language, Jacaltec, was a challenge, as it was unwritten at the time. After serving in Jacaltenango, he served in the Parish of San Mateo Ixtatan for six years, working for integral evangelization including health and education projects. Father Mullan was elected Regional Superior of the Central America Region for six years, 1980 to 1986. During that time, he was responsible for all Maryknoll priests, Brothers and lay missioners in the five countries of Central America where Maryknoll worked.
In March 1987, Father Mullan was assigned to the United States and worked in the Development Department for four years in New York City and Yonkers. He was elected Regional Superior of the United States Region on October 1, 1991, and served for six years. After attending a sabbatical/renewal program at Notre Dame University in January, 1998, Father Mullan was re-assigned to the Central America Region to work in Guatemala.
Upon his return, Father Mullan worked with Mayan Q'eqchi people in the Peten, Guatemala. He was assigned to the San Francisco Parish, consisting of 28 Q'eqchi villages. Here he and a Los Angeles lay missioner coordinated health programs for the people by obtaining funds for medicines and medical care. He also worked to provide education for the young people.
Father Mullan considered his mission work: "a gift of knowing the Mayan people, their culture, their faith, their community spirit, their respect for nature and their family values. I have learned much from the people; they have helped me be who I am."
In July 2012, Father Mullan left his beloved Mayan people and began a new assignment with the Initial Formation Department in Chicago, Illinois. He was re-assigned to the Latin America Region in December of 2014 and returned to Guatemala.
Father Mullan was assigned to the U.S. Region with Senior Missioner Status in June 2019, and to the Senior Missioner Community later that same year. He resided at the Maryknoll Society Center, and celebrated his sixtieth Jubilee as a Maryknoll priest in June 2022.
Father Mullan is survived by his nieces and nephews. He was predeceased by his sister, Julia Anne Maher, and his brothers, Joseph, James and Raymond Mullan.
Wake services were held on August 10, 2022, in the Holy Spirit Chapel and the Queen of Apostles Chapel at the Maryknoll Society Center. Mass of Christian Burial followed at 11:00 a.m. and was concelebrated in the Queen of Apostles Chapel. Father Joseph La Mar was the Celebrant and homilist. Brother John Blazo read the biography and Father Fernand Gosselin read the Oath. According to his wishes, Father Mullan was cremated and his ashes placed in the Maryknoll Society Columbarium.