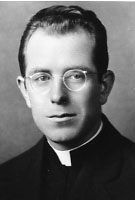 Father William F. Murphy, MM
Born: August 30, 1905
Ordained: June 16, 1937
Died: December 27, 1972
William F. Murphy was born in Syracuse, New York on August 30, 1905. He was a member of St. Vincent de Paul Parish in that city when he entered Maryknoll in 1927. Upon his ordination on June 16, 1937 Father Murphy was assigned to Japan.
A few years later, with the onset of World War II, he was interned and then repatriated on the Gripsholm in 1942. Two months later he was assigned to work in Puno, Peru. He also worked in Ecuador when that mission was opened in 1944 and after the war he returned to Japan where he was Procurator for the Maryknoll house there.
Because of poor health he returned to the States in 1950 where he served in several houses. His health did not improve and in 1969 he was granted permission to live with his sisters in Syracuse.
On December 27, 1972 Father Murphy died at his home. A funeral Mass was said on the 29th in St. James Church, Syracuse. From there the body was flown to New York where a concelebrated Mass was offered on December 30, followed by burial at Maryknoll.