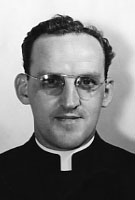 Father William F. Pheur, MM
Born: February 26, 1911
Ordained: June 14, 1938
Died: January 17, 1993
Father William F. Pheur died of at Phelps Memorial Hospital, North Tarrytown, New York, on Sunday morning, January 17, 1993. He was 82 years of age and a Maryknoll priest for 55 years.
William Francis Pheur was born on February 26,1911, in North Walpole, New Hampshire, son of Thomas and Mary Dinan Pheur. He had four brothers and two sisters, one of whom became Sister M. Thomasina in the Convent of Mercy, Manchester, New Hampshire. He attended the public grade school in North Walpole and graduated from the Bellows Falls High School in Vermont, On September 8, 1929 he entered Maryknoll Apostolic College (Venard), Clarks Summit, Pennsylvania. In a short autobiography he attributed his missionary vocation to his fine Catholic family and inspiration gained from reading the Maryknoll magazine called The Field Afar. He was ordained a priest at Maryknoll Seminary in Ossining, New York on June 14, 1938.
Prior to his ordination, Father Pheur was assigned to the Maryknoll Mission in Fushun, Manchukuo on April 30,1938. After arrival in Fushun he began Chinese language and cultural studies and served for several months in the Tunghua Mission. Then he was appointed Pastor of the Japanese parish in Fushun and he started Japanese language studies. At the outbreak of the second World War in the Pacific on December 7, 1941 he was interned with other Maryknollers by the Japanese authorities in Fushun. He returned to the United States aboard the Swedish repatriation ship named the Gripsholm in December of 1943. After a vacation he was appointed to the faculty of the Venard and taught English and served as Director of the Brothers and confessor for the Maryknoll Sisters for two years.
On May 15, 1946, Father Pheur was assigned to the Maryknoll Mission in Japan and was appointed Pastor to the Church at Takano in Kyoto. His Superior wrote of him: "Father Pheur is a good man for the Mission. A sort of wheel horse who does not fly off the handle, is always willing and generous with his things and his time and is a good man for those to talk to who need to sound off. He also has good ideas and is getting better at the language, Without trying, Father Pheur has been a good influence to keep the men united."
On September 20,1947 Father Pheur was recalled from Japan and appointed Novice Master and Local Superior at the Maryknoll Novitiate, Bedford, Massachusetts, He served as Novice Master for six years. The General Council Visitator of the Novitiate wrote of him: "Father Pheur works well in the job with the novices and the novices like him. The routine is well regulated and I get the impression of order and discipline without tension." On May 27, 1953 he was appointed Local Superior of the Maryknoll Center in Ossining, New York.
On July 29, 1955 Father Pheur was appointed Group Superior of the Maryknollers in Japan. The Council Visitator wrote: "He has done well in the position of Group Superior in his transactions with the hierarchy and Maryknollers, despite the hardship of little knowledge of the language." A year later, on December 14, 1956 he was appointed the first Regional Superior of the Maryknoll Mission Region in Japan for a term of five years.
On April 10,1962, Father Pheur was appointed Spiritual Director at Maryknoll College, Glen Ellyn, Illinois. The Rector noted that "Father Pheur is a steady priest, quite confident of his own judgments, but not too effective with spiritual direction, partly due to the modern shift in attitudes toward old-fashioned discipline and asceticism, which he tried to adapt to, but not quite sure where he stands."
Once again on February 5, 1965, Father Pheur was assigned to Japan and on April 1, 1965 appointed the Regional Vicar to the Regional Superior for Administration of the Tomakomai Center House in Sapporo, Hokkaido. Besides the administration of the Center House, he brushed up on his Japanese language, taught 21 classes in English each week in Fuji College and made many contacts for the Church in Hokkaido. His Superior wrote: "Steady and humble after being a Superior and a Novice Master for years, Fr. Bill is trying to do all he can for the Church in Sapporo. Although he does not know the Japanese language very well, he still puts in a full week".
On December 22,1975, Father Pheur was appointed Director of Maryknoll Retirement Residence in Los Altos, California. He served there for a term of three years plus one more year until July 31, 1980. On November 21, 1980, Father Pheur was enrolled in the Special Society Unit with continued residence at Los Altos. He helped out off and on at Maryknoll's St. Francis Xavier Japanese Mission in Los Angeles, California.
Father Pheur came to St. Teresa's Residence on November 12, 1989. Wake services will be conducted in St. Teresa's Chapel and in Queen of Apostles Chapel on Tuesday, January 19. Concelebrated Mass of Christian Burial will be offered in Queen of Apostles Chapel on Wednesday, January 20, 1993. Interment will be in Maryknoll Center Cemetery.