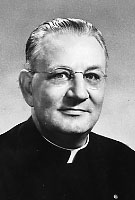 Father William F. Schulz, MM
Born: October 18, 1900
Ordained: June 17, 1928
Died: February 14, 1953
Father William F. Schulz was born in New York City on October 18, 1900. The family lived in St. Joseph's Parish, Manhattan. After graduating with the first class to finish at Regis High School, William went to work for three years with the firm of W. R. Grace and Co.
In 1921 he entered the Venard. His last year of Theology was completed at Catholic University, Washington, D.C., where he continued his studies for a year after ordination, securing the J.C.L. Degree. He was ordained by Bishop Dunn on June 17, 1928. Within a few months after his death he would have been marking the Silver Jubilee of his priesthood.
On completion of his studies Father Schulz was sent to Cincinnati as Rector. In 1933 he received his mission assignment to Wuchow, China. He was called back to the States in 1939 to resume direction of Maryknoll activities in Cincinnati. Five years later he was assigned to Chile. He was elected a Delegate to the 1946 Chapter and after it he was named Local Superior and Promotion Director in Detroit, a post he filled until his transfer to New Orleans in early 1950.
Father Schulz met sudden death in an auto accident in February of 1953. The tragic mishap occurred in the early afternoon of the 14th, near Gonzales, LA, some sixty miles from New Orleans, while he was on his way to fill a promotion date at Camp Polk. His car was reported to have collided with a truck in a heavy wind and rain storm.
At the wish of Archbishop Rummel, a funeral Mass was celebrated in New Orleans on February 16. The remains were then brought to Maryknoll for the funeral Mass and interment, which took place on Ash Wednesday. The Celebrant and ministers of the Mass were Msgr. Romaniello, Fathers Francis Donnelly and George Daly. The eulogy was preached by Fr. Francis Mullen. All these priests were classmates of Father Schulz.