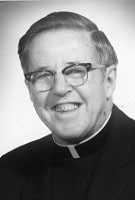 Father William H. Moeschler, MM
Born: April 30, 1914
Ordained: June 11, 1944
Died: October 13, 2006
Father William H. Moeschler died on October 13, 2006 at St. Teresa's Residence, Maryknoll, New York. He was 92 years old and a Maryknoll priest for 62 years.
William Henry Moesohler was born on April 30, 1914 in Stevens Point, Wisconsin, son of Henry William Moeschler and Gizella T. Haidvogi. He had one brother and two sisters. William graduated from Stevens Point High School in June 1931. He studied at the Central State Teachers College from September 1931 to June 1933,when he enrolled in the School of Commerce at the University of Wisconsin, Madison, where he earned a Bachelor of Arts degree in Accounting in June 1935.
Father Moeschler applied for admission to Maryknoll Society and entered Maryknoll Apostolic College (Venard), Clarks Summit, Pennsylvania on January 7, 1937 for special Latin studies. He was ordained at Maryknoll Seminary, Ossining,New York, on June 11, 1944. After ordination, Father Moeschler attended the University of St. Louis in Missouri and obtained a Master of Arts degree in Sociology in June 1945.
Father Moeschler was then assigned to the Maryknoll Mission in La Paz, Bolivia, where he served in pastoral work for two years among the Aymara people in Villa Victoria. In May 1947 Father Moeschler was recalled to New York and assigned to the Seminary Faculty to teach courses in Economics and Social Science. In April 1952 he was transferred to Maryknoll College, Glen Ellyn, Illinois, again to teach courses in Economics and Social Science.
On April 20, 1954, Father Moeschler was assigned to the Maryknoll Mission in Peru, South America. Upon his arrival in Lima he began 25 years of pastoral ministry, fourteen of which were spent in the mountains of Southern Peru in the formation of Catholic rural parishes among the Aymara Indians. He first served as Assistant Pastor of St. Rose of Lima Parish in Lima. In 1957 he was appointed Pastor of the newly established Parish of Our Lady of Pilar in Arequipa, Peru. In 1959 he was appointed Spiritual Director and teacher at the Puno Minor Seminary, with pastoral ministry in Our Lady of the Assumption in Azangaro. He also taught classes in the School of Social Service at the National Technical University. Eleven years were spent in Our Lady of Sorrows Parish, Cerro Colorado, Arequipa, Peru, among country people who migrated into the cities of Lima and Arequipa.
In September 1979, at age 65, Father Moeschler requested retirement with residence at his sister's home in Stevens Point, Wisconsin. He served for 21 years in full- and part-time pastoral ministry in parishes in Stevens Point and Plover, Wisconsin, until his health necessitated his move to Maryknoll, New York in July 2000. Father took up residence at St. Teresa's and became a member of the Retirement Community in February 2001.
Wake services were held at 4:30 p.m. on October 16, 2006 at St. Teresa's, and at 7:30 p.m. in Queen of Apostles Chapel at Maryknoll Center where Father Joseph Arsenault officiated and Father Thomas McDonnell read the biography. Mass of Christian Burial was concelebrated in Queen of Apostles Chapel on October 17, 2006 at 11:00 a.m. Father Gerard McCrane was Principal Celebrant and homilist. Father John Barth gave the final blessing. Father Moeschler was cremated and his ashes buried in the family plot in Stevens Point, Wisconsin.