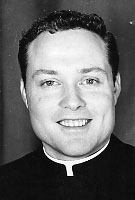 Father William H. Woods, MM
Born: September 14, 1931
Ordained: June 14, 1958
Died: November 20, 1976
Father William H. Woods, who has been a member of our Central American Region since ordination, died on November 20 in the crash of his small plane near Quiche, Guatemala. Four American civilian passengers were also killed. Details, including the cause of the crash, have not been completely reported.
Father Woods was born in Houston, Texas, September 14, 1931. He attended St. Thomas High School in Houston. He began his studies for the priesthood at Glen Ellyn. After ordination on June 14, 1958, Bill was assigned to Central America and has spent all of his priestly life working for the people of Guatemala. When notified of his death, his mother said, "he died just as he lived, working with his people."
Father Woods was working on several projects. One, a colonization project was aimed at obtaining land for the otherwise landless poor of the mountains of Huehuetenango. He had been involved in this for the better part of ten years. A Program of enormous scope, it involved the resettlement of several thousand families, the introduction of community development techniques and the training of local leaders for the people involved. A major service which Bill contributed was the air transport of the elderly, the sick, and those otherwise incapable of traveling overland to the jungle project. Another facet of Father Woods work was a housing project on the outskirts of Guatemala City, designed to alleviate the housing shortage brought about by February's disastrous earthquake.
Father Woods was very serious and dedicated about his work, had a very pleasing personality and a fine sense of humor.
The Funeral Mass and burial were in Huehuetenango, Guatemala on November 23. The Mass of the Resurrection was celebrated at Maryknoll, New York, on Wednesday, November 24 at 11:30 a. m. in the Society Chapel. There was also a Memorial Mass celebrated in Father Woods home parish, Holy Ghost Church, Bellaire, Texas.