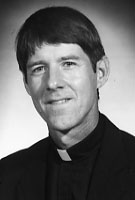 Father William I. Tillson, MM
Born: October 1, 1947
Ordained: June 2, 1990
Died: April 21, 1992
William Irving Tillson died in Bangkok, Thailand at 12:45 p.m. on April 21, 1992. He was 44 years old and a Maryknoll priest for a year and ten months.
William was born on October 1, 1947 to John B.Tillson and Ruth Williams Tillson in Indianapolis, Indiana. He had one brother, one sister and two step-sisters. He grew up in Sullivan, Indiana and attended Scott Junior High School and graduated Wiley High School, Terre Haute in 1965.
In his early years, religion was a consistent part of William's family life. Due to the different denominational backgrounds of his parents, the family was associated at various times with the Baptist, Methodist and Episcopalian Churches. In each case, his parents were close friends with the Pastor or Rector. William wrote in 1984 that he probably first received the seed of a vocation from the example of Reverend Roberts, a Baptist Minister. After graduation from High School he became friends with a Catholic family and the example of their lives led him to investigate Catholicism. With the full support of his own family, he was received into the Catholic Church on May 14, 1966.
William attended Indiana State University from 1965 through 1968 where he earned a Bachelors degree in Speech and Hearing. He served in the United States Air Force as an air traffic controller from 1969 to 1973,
spending two of these years in Thailand. In 1974 he returned to Indiana State University and in 1976 earned his Masters degree in Audiology. His 1975 marriage to Marilyn Isbell was annulled in 1980.
During and after his time of service in the Air Force, William felt drawn to religious service. Thus, in 1981 he joined the Vicariate of St. Casimir, a Franciscan community in Kennebunkport, Maine with a commitment to expatriate Lithuanians. In 1982 he studied at Holy Apostles College, a Seminary for delayed vocations in Cromwell, Connecticut, preparing for the Franciscan priesthood. During his Novitiate Year he had become acquainted with MARYKNOLL magazine and began to think of the missionary priesthood.
William entered Maryknoll at Cambridge, Massachusetts on August 20, 1984. He studied at Maryknoll School of Theology from 1984 through 1986 and earned his Master of Divinity degree. He did his Overseas Training
Program in Tanzania, East Africa, from 1987 to 1989. At the time of his first Oath, he wrote: "All that I have to offer to Maryknoll is rooted in a single-hearted desire to serve the Lord." He was ordained a priest at Maryknoll, New York on June 2, 1990. At ordination, Father Tillson was assigned to Maryknoll's Bangladesh Unit effective July 1, 1990. In July 1991 he took up work at Miriam Ashram at Diang near Chittagong, where he worked pastorally with some 350 Catholics. At the same time he visited and encouraged the poor Hindus and Muslims in the area. He also helped Mother Teresa's Missionary Sisters of Charity establish their first house in Chittagong Diocese. This was one of the areas of the country hit hardest by the storm the previous spring that claimed 140,000 lives. Less than five months later he rejoiced with his people that a bumper crop was restoring life and helping heal the scars from that cyclone and tidal wave.
Word was received at Maryknoll, New York on Holy Saturday evening, April 18th that Father Tillson had fallen ill. After his condition worsened, he was transported to Dhaka from Chittagong. Arrangements were then made for his transport by Asia Emergency Assistance to Bangkok, Thailand. Maryknoll Sister Miriam Perlewitz accompanied him on the flight and in the hospital in Bangkok. She related on April 19th that she and Father Tillson, who was fully aware of his condition, were able to pray together during the night. She commented on his courage and faith. Father Patrick Richards, a classmate, and Father John Barth, both members of Maryknoll's Thailand Unit, were able to join Sister Miriam at Father Tillson's bedside in his last hours. In a final message to Maryknoll, Father Tillson said: "My brothers and sisters, how I thank you all for the love of Christ you have shared with me. Continue to love and forgive one another. No tears of sadness. I loved life. I love you all."
At Father Tillson's request, burial was at St. Theresa of the Child Jesus Cemetery, located on the grounds of the Salesian Retreat House in Hua Hin, south of Bangkok, where the Thailand Unit Maryknollers hold their annual Retreat. Father Richard Ouelette presided at the funeral Mass on April 23, 1992. A Memorial Mass was concelebrated at Queen of Apostles Chapel, Maryknoll, NY at on April 27, 1992. Father Leo Shea was principal Celebrant and Father Daniel Rocco, a friend from the Camden, NJ Diocese, was the homilist.