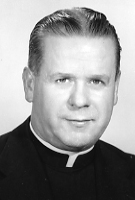 Father William J. Coleman, MM
Born: March 29, 1911
Ordained: June 11, 1939
Died: December 4, 2002
Father William J. Coleman died early in the morning on December 4, 2002 at St. Teresa's Residence, Maryknoll, New York. He was 91 years old and a Maryknoll priest for 63 years.
William Jackson Coleman was born in Shelby, Ohio, on March 29, 1911, son of William and Bertha Fisher Coleman. He had ten brothers and sisters, two of whom became nuns. His early schooling took place at St. Mary's Parochial School in Shelby; he went on to study at St. Joseph's College, Renssalaer, Indiana and St. Gregory's Seminary, Cincinnati, Ohio. Father Coleman entered Maryknoll Novitiate at Bedford, Massachusetts, on September 1, 1934, and was ordained at Maryknoll, New York, on June 11, 1939.
After ordination Father Coleman attended the University of Illinois for one year and then changed to the Catholic University of America in Washington, D.C. and secured his Master of Arts degree in Latin American Church History. Upon completion of his studies, he was assigned to the faculty at Maryknoll's Junior Seminary (Venard) in Clarks Summit, Pennsylvania, where he taught for three years. Father Coleman returned to the Catholic  University for further studies leading to a doctorate in history. In the fall of 1945 he went to Rome, Italy for research studies in the Vatican Archives until June of 1947. On his return to the United States he was assigned to teach History at Maryknoll Junior College, Lakewood, New Jersey and received his Ph.D. in history from the Catholic University, November 20, 1950. His doctoral dissertation was based almost exclusively on unpublished documents from the Vatican Archives and was titled, "The First Apostolic Delegation in Rio de Janeiro and Its Influence in Spanish America, a Study in Papal Policy from 1830-1840."
Father Coleman was assigned to the Maryknoll Mission in Talca, Chile on April 2, 1950. From 1950 – 1955, he served as Assistant Director to Father James McNiff in the Colegio Gonzalo Correa, Molina, Chile. From 1955 on, he was director of the Colegio. In 1956, he returned to the United States on home furlough and was assigned to teach church history in the Seminary at Maryknoll, New York. From 1961 to 1967, he taught history at Maryknoll College, Glen Ellyn. On December 22, 1966, he was appointed Society Archivist and worked there for almost twelve years. He did an excellent job of organizing the Society Archives.
On August 30, 1978, Father Coleman was enrolled in the Special Society Unit and moved to Los Altos, California. In 1992, he took up residence at St. Teresa's and entered the Retirement Community in February 2001.
Wake services were held at 4:30 p.m. on Monday, December 9, 2002 at St. Teresa's, with Father Thomas P. McDonnell officiating, and at 7:30 p.m. in Queen of Apostles Chapel at Maryknoll Center where Father William J. Galvin officiated and Father J. Daniel Schneider read the biography. Mass of Christian Burial was concelebrated in Queen of Apostles Chapel on Tuesday, December 10, 2002 at 11:00 a.m. Father Richard B. Callahan was Principal Celebrant and Father William J. Galvin homilist. Burial followed in Maryknoll Society Cemetery with Father Francis T. McGourn conducting the graveside service.