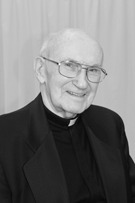 Father William J. Coy, MM
Born: October 31, 1928
Ordained: June 11, 1955
Died: December 18, 2013
Father William J. Coy died on December 18, 2013 at Dumont Center for Rehabilitation & Nursing Care in New Rochelle, New York.  He was 85 years old and a Maryknoll priest for 58 years.
William Joseph Coy was born in Danvers, Minnesota, on October 31, 1928. He was the youngest in a family of five, having one brother and three sisters. His father and two uncles ran the general store in Danvers until his father lost his sight about the time of William's birth. He had a particularly close relationship with his father, since he was most often his father's guide around the town.
Life in a small town varied from the boring to the very exciting. The flat prairie made every boy wonder what was beyond the horizon, both to the east and the west. Missionaries occasionally came to the small parish church, but they had no noticeable effect upon William. In his senior year in high school, in the neighboring town of Benson, he came to realize that the only thing out there really beckoning him was the priesthood.
During his freshman year at St. John's University in Collegeville, Minnesota, he realized that Maryknoll was where he wanted to be; a vibrant, made-in-America Society that really appealed to him. He applied and was accepted for his sophomore year at the brand-new minor seminary in Lakewood, New Jersey. Father Coy was ordained in 1955, one of sixty, and assigned immediately to Bolivia with three of his classmates – Fathers Frank O'Hara, Bob Emerson, and Ed Sullivan. His first assignment after language school was to General Saavedra, in the Department and Diocese of Santa Cruz.
His second assignment was to San Pedro parish in the capital city of La Paz. Upon returning to Bolivia after Home Leave in 1962, he was assigned to Maryknoll's jungle Vicariate of the Pando, where he worked almost exclusively for the rest of his time in Latin America. He was assigned to cooperative work, first in the experiment of Blanca Flor and then in the credit cooperative in Riberalta. He went on to help found an electric cooperative, a telephone cooperative and a consumer cooperative, all in Riberalta.
Life in Bolivia seemed always to be affected by an impending or present revolution. In 1988, between two revolutions, the town of Riberalta was torn between opposing factions. A hometown Colonel came from La Paz and begged that one of the Maryknoll Fathers be mayor until things simmered down. Fr. Coy became His Honor for four months.
Two years later, Frs. Moynihan and Coy were arrested during yet another revolution, accused of being communists, and flown to La Paz, where they were incarcerated for five days before being released in the custody of the Apostolic Nuncio. They took up residence in the Nunciature for three weeks, along with the ousted president of the country, and then were free to return to Riberalta.
In 1984 Father Coy was assigned for three years to the U.S. Region and to development work, which he did primarily in San Francisco, California. He returned to Riberalta in January 1988 and remained there until 1994 when he again returned to the U.S., first to write a history of the fifty years of Maryknoll in Bolivia and then to Development work in Minneapolis.  In 1996 Father Coy went back to Bolivia for two years, returning to the United States in 1998.  In April 1, 2002, Father Coy was assigned to the Retirement Community, living at Maryknoll, New York, where he was known for his photography, helping out on weekend Church dates, and offering Mass in Spanish at St. John's Church in White Plains, NY.  In September 2013, he moved to St. Teresa's Residence, Maryknoll, New York.
Wake services were held at 4:30 p.m. on December 23, 2013 at St. Teresa's. Mass of Christian Burial was concelebrated in Queen of Apostles Chapel on December 24, 2013 at 11:00 a.m. Father Michael Duggan was Principal Celebrant and Father John Moynihan homilist. According to Fr. Coy's wishes, he was cremated and his cremains were placed in the Columbarium in Maryknoll, New York.