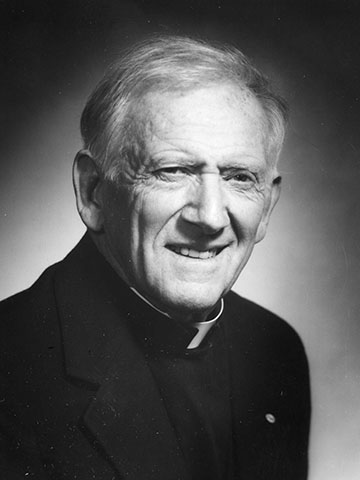 Father William J. Donnelly, MM
Born: August 28, 1933
Ordained: June 12, 1965
Died: September 6, 2023
Father William J. Donnelly died on September 6, 2023 in the Assisted Living Unit at Maryknoll, New York. He was 90 years old and a Maryknoll priest for 58 years.
William James Donnelly was born on August 28, 1933 in Bloomington, Illinois, son of Edward B. and Bernadine Ulbrich Donnelly. The family moved to Peoria, Illinois in 1941. He was one of four children. William attended St. Cecilia Elementary School and graduated from Peoria Central High School in 1951. He earned a Bachelor of Fine Arts degree from Bradley University, Peoria, Illinois in June 1955. He joined the U.S. Army in October 1955 and was granted an honorable discharge two years later with a rank of Specialist 3rd Class. In the service, William completed an 8-week course in Clinical Psychology. After that preparation he was assigned to work with clinical psychologists at an Army prison in Neosho, Missouri for eighteen months. He worked as a commercial artist before joining Maryknoll at Glen Ellyn, Illinois in September 1958. Father Donnelly was ordained a priest at Maryknoll, New York on June 12, 1965.
After ordination Father Donnelly was assigned to the Maryknoll Mission Region in Guatemala, where he worked for the next 24 years. After language study, his first assignment was to a parish in Chiantla, Huehuetenango, Guatemala. In 1969 he was assigned to the Villa de Guadalupe in Guatemala City, and in 1971 he was named Director of the Center for Integral Development for the Diocese of Huehuetenango. He served as pastor of the Cathedral Parish of the city of Huehuetenango from 1972 through 1978. In 1979 he moved to Jacaltenango, and from 1980 until 1990 he served as pastor in Barillas, Huehuetenango. This was an area of great conflict during the worst years of Guatemala's Civil War. Hundreds of Father Donnelly's parishioners were killed in that war.
In January 1990 Father Donnelly was assigned to the U.S. Region and the Development Department. He served there for 8 ½ years, first in the Development House in Houston, Texas, and then from August 1993 through July 1998 as Co-Director of Development at Maryknoll, New York.
Following his years of Society service in the Development Department, Father Donnelly returned to Guatemala and was appointed Regional Superior for Central America from October 1, 1998 until the Central America Region became part of the larger Latin America Region, on April 30, 2001. From that date until September 30, 2004 he served as Assistant to the Regional Superior of Latin America and Coordinator in the Northern District, primarily responsible for Guatemala, El Salvador, Honduras and Nicaragua.
In October 2004 Father Donnelly returned to the United States while remaining a member of the Latin America Region. He started a new assignment on Promotion in Chicago, Illinois in November 2004, which enabled him to be close to his then 94-year old mother in Peoria. He was assigned to the U.S. Region in December 2005 to continue his work in Mission Education and Promotion. Father Donnelly was re-assigned to the Latin America Region in December 2013. He worked 4 months of the year during the summer in the U.S., assisting with promotion and church appeals in the Midwest, and 8 months of the year in Guatemala, helping in large parishes.
Father Donnelly was assigned to the U.S. Region with Senior Missioner Status in January 2017, and began working in El Paso, Texas to serve near the U.S.-Mexico border. He assisted at St. Patrick Parish and Immaculate Heart of Mary Parish in Canutillo. He returned to Maryknoll, New York in 2021 to take up residence at the Society Center, and was assigned to the Senior Missioner Community in August 2021.
Reflecting upon his many years in mission in Guatemala, Father Donnelly said that despite the danger of wars, health risks and misunderstandings, it was always a privilege to work with such wonderful people, and to accompany them during the worst years of war. The Mass and the sacraments and being together in these celebrations, brought great comfort to the people who were living in fear and confusion.
Father Donnelly is survived by his brother, Michael Donnelly and his sister, Patricia (Butch) Kliver. He was predeceased by his sister, Dona Sutter.
Wake services were held on September 14, 2023 in the Holy Spirit Chapel and the Queen of Apostles Chapel at the Maryknoll Society Center. Mass of Christian Burial followed at 11:00 a.m. and was concelebrated in the Queen of Apostles Chapel. Father Kevin Hanlon was the Celebrant and homilist. Brother John Blazo read the biography and Father James Hilgeman read the Oath. Burial followed in the Maryknoll Society Cemetery.