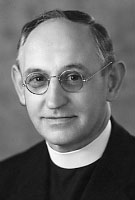 Father William J. Downs, MM
Born: January 1, 1890
Ordained: June 17, 1916
Died: September 22, 1970
William J. Downs was born in Meadville, Pennsylvania. on January 1, 1890. He received his early education in the public schools of Erie and St. Ann's Parochial School. For two and a half years after graduation from high school he did office work in a manufacturing concern and a real estate office. He attended St. Bonaventure's Seminary in Alleghany, N.Y. and was ordained for the Erie Diocese on June 17, 1916. He entered Maryknoll in 1920 and took the Perpetual Oath in 1930.
In his fifty years with Maryknoll Father Downs occupied many important positions. He was stationed for a while at Maryknoll Center as Director of Aspirants and Secretary to the General Council. In 1922 he was appointed Rector of the Venard.
He was assigned to Kaying in 1925 and became Society Superior there in 1930, a position he held until 1938. In 1939 he was assigned to teach the Hakka dialect in Hong Kong. He returned to the States in 1943 and became Local Superior of the Detroit house in 1944. For a time he worked at Brookline and returned to Stanley in 1946. In 1943 he was appointed Econome to the South China region, Society Superior and Assistant Procurator at Hong Kong, a post he held for many years. For some twenty years he remained in Hong Kong, never leaving the area until his return to the States in 1969 when he was assigned to St. Teresa's because of poor health.
Father Downs died on September 22, 1970 at Harlem Valley State Hospital in Wingdale, N.Y. A funeral Mass was said at Maryknoll on the 24th at which Father General was celebrant and Fr. John Swift preached.