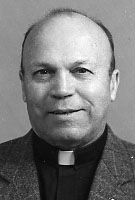 Father William J. Eggleston, MM
Born: December 23, 1920
Ordained: June 15, 1947
Died: June 8, 2000
Father William J. Eggleston died on June 8, 2000 at St. Teresa's Residence. He was 79 years old and a Maryknoll priest for 53 years.
William Eggleston was born in Newton, Massachusetts, on December 23, 1920, son of Joseph and Catherine McSheffery Eggleston. He has two brothers and two sisters, one of whom, Sr. Anna Martina Eggleston, was a nun. He attended Hood elementary and St. Joseph's elementary schools and St. Mary's High School. After high school graduation, Father Eggleston entered Maryknoll in September, 1938 and was ordained at Maryknoll, New York, on June 15, 1947.
After ordination, Father Eggleston was then assigned to the Maryknoll mission in the Diocese of Kaying in South China under the Most Rev. Francis X. Ford, M.M. In 1951, he was assigned to the Maryknoll Mission in Japan. Except for a three-year period (1975-1978) when he did Development work for the Society in the United States, making Maryknoll known in the Cleveland, Ohio, area, he spent the rest of his overseas missionary life in Japan.
Close Maryknoll friends of Father Eggleston said that he was an avid fisherman on lakes, the seas and the ponds. Between his golf and fishing he always had plenty of stories with which to regale the men on the missions. Father Eggleston was the life of any party. He could make great fun and never hurt everyone. He was able to give and to take, and to always maintain his inimitable good humor.
At the time when Father Eggleston was director of the Society House in Tokyo he made it a hub of entertainment. Jesuits came to play bridge, Columbans to swap stories, and Maryknollers to have a good time, which Father Eggleston provided happily. He helped the Lay Missioners get started in Tokyo, by giving generously of his time.
Father Eggleston was assigned to the Special Society Unit in September 1991. In July 1994, he became an active member of the Japan Region again and worked on the history of Maryknoll in Japan. Father Eggleston was reassigned to the Special Society Unit on May 1, 1996, taking up residence at St. Teresa's. At the time of his assignment back to the U.S.Region and the Special Society Unit the Superior General wrote: "Bill, you can look back with great pride on the many, many years of active mission ministry overseas. The great majority of those years, of course, have been spent in Japan. They are a tribute to your commitment and faithfulness."
Those who were close to and knew Father Eggleston well experienced a missioner and priest who loved life, his vocation and Maryknoll. He was a great storyteller and was gifted at sharing those stories with Maryknollers and friends. He was faithful to his mission, and the people he served will remember him with great pride. Upon hearing of his death, the members of Tsu Church in Japan wrote: "We are deeply thankful to you for your work of preaching the gospel…we still remember your pleasant and joyful attitude and the efforts you made with us to make Christ better known here."
Wake services were held at St. Teresa's Residence at 7:00 p.m. on Monday, June 12, 2000 and at 7:30 p.m. in Queen of Apostles Chapel where Father Regis Ging officiated and Brother John Blazo read the biography. Mass of Christian burial was concelebrated at Queen of Apostles Chapel on Tuesday, June 13, 2000 at 11:00 a.m. Father Lo Xuan Dam was principal celebrant and Father Walter Kelleher was homilist. Burial followed at the Maryknoll Cemetery with Father Raymond Finch conducting the graveside service.