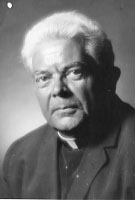 Father William J. Morrissey, MM
Born: March 22, 1916
Ordained: June 12, 1948
Died: April 20, 1996
Father William J. Morrissey died at St. Teresa's Residence, Maryknoll, New York, at 1:20 P.M. on Saturday, April 20, 1996. He was 80 years of age and a Maryknoll Priest for 47 years.
William Morrissey was born on March 22, 1916, in Brooklyn, New York, son of William and Mabel Lyons Morrissey. He attended P.S. 135 in Brooklyn and graduated from San Diego High School, San Diego, California in June 1934. After high school William attended San Diego State College for one year and studied at New York University from 1935-1938 working toward a B.A. Degree in History.
William entered the Society's Preparatory College (Venard) in Clarks Summit, Pennsylvania, in September 1940. He wrote in his autobiography at the time of his application to the Society about his future as a missioner. "As for the future – how can I search the mind of God? The simple, yet mighty symphony which is Christ's is now mine… My prayers are that I may be a little instrument in diffusing God's good." In 1942 he went to the Maryknoll Seminary in Ossining, New York where he studied Philosophy. William attended the Maryknoll Novitiate in Bedford, Massachusetts in 1943-1944 and took his First Oath to the Society on August 30 1944. In June 1948 he earned his Degree in Theology and was ordained to the Priesthood on June 12, 1948 at Our Lady Queen of Apostles Chapel, Maryknoll, New York.
Father Morrissey was assigned to Wuchow, China in April 1948. After the communist take over in November 1949, he was held under house arrest until being expelled from China in January 1952. He was immediately assigned to the Philippines where he remained in mission until his return to the United States in 1991 for health reasons.
During Fr. Morrissey's almost 40 years of missionary service in the Philippines he served in many pastoral and educational assignments. In the Lipa Diocese, Father Morrissey served as Pastor of several different parishes until he was appointed Procurator of the Maryknoll Manila House in 1962. In 1955-1956 he spent a year studying anthropology at the Catholic University of America, Washington, D.C. During the academic year 1964-1965 Father Morrissey studied Psychology at the Jesuit Ateneo de Manila. In the mid-60's he served as a teacher at the Maryknoll College, Quezon City, operated by the Maryknoll Sisters and also accepted a position of National Chaplain of the Christian Family Movement in the Philippines. In 1973 he once again served as Local Superior of the Maryknoll Manila House until 1975. Beginning in June 1973 until June 1978 Father Morrissey was Professor of Pastoral Education at Our Lady of Angels Seminary, Manila. In 1982 he became actively involved in the Family Life Center, Quezon City, which is a Christian Family Movement with an emphasis on aging and family-oriented activities.
On February 17, 1987 Father William Boteler, Superior General, wrote to Father Morrissey assigning him to the Special Society Unit, effective, March 1, 1987, with Residence in the Philippine Region. Father Boteler wrote: "I would like to take this opportunity to thank you on behalf of all Maryknollers, Bill, for your considerable contribution to Maryknoll's missionary endeavors in the Philippines during these many years and for your continued service to the Society. Your years of missionary Priesthood have been marked by apostolic zeal and Christian kindness.
In May of 1991 Father Morrissey returned to the United States for health reasons and was assigned to St. Teresa's Residence on May 10, 1991 where he remained until his death.
Wake Services were held on Tuesday, April 23, 1996 at St. Teresa's Residence Chapel at 7:00 P.M. and at the Queen of Apostles Chapel at the Maryknoll Center, New York at 7:30 P.M. Mass of Christian Burial was concelebrated on April 24, 1996, in Queen of Apostles Chapel at 11:30 A.M. Principal Celebrant and Homilist was Father William Galvin. Graveside prayers were led by Father James Kroeger and interment followed at the Maryknoll Cemetery.