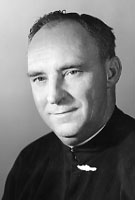 Father William J. Murphy, MM
Born: December 3, 1916
Ordained: June 12, 1948
Died: February 7, 1985
Forty-one years ago, when young Bill Murphy was in the Novitiate at Bedford, his classmates gave him the nickname of "Rabbit." Ever since he has been affectionately known to the Maryknoll Family as "Rab." Father Edward Weis, the Novice Master, thought that he should have been called "Beaver" since Bill had proved himself as a hard worker in whatever he did.
Father William Murphy, the second of five children, was born to William and Florence Murphy on December 3, 1916, in Pittsfield, Massachusetts. After finishing primary and secondary schooling, he went to work in the Dale Brothers Laundry, operating dryers and driving trucks, for four years. At the age of 21, he decided to fulfill a life-long dream of entering the priesthood. He himself tells us that his vocation to Maryknoll was due to the "Field Afar" and to his mother. "If my vocation to Maryknoll can be traced to a missioner, then it is due to the many stories my mother used to tell me about Father Joseph Connors who was laboring in Korea at the time." Father James McDermott also helped to bring Bill into the missionary priesthood.
He entered Maryknoll on the 14th of September, 1938, at the Venard. Being one of thirty-two deacons, he was ordained on June 12, 1948. During his seminary years he was always very active in sports and continued to follow sports all his lifetime. Later on that year he left for Musoma, Tanzania, and has labored there during the entire period of his mission career. He was engaged in pastoral work and was instrumental in carving out of nothing the Majita Parish. During his time in Tanzania he was known as a hard and determined worker who was universally liked and loved by the people. His generosity, piety and sincerity compelled him to reach out to the needs of the poor. He was a most Christian individual with an obvious desire to go any distance to help another.
While "Rab" was in Theology, the Rector, Father John Comber, had this to say about him: "His character is pure gold." "A prize for any mission which wants a pleasing, hard-working fellow who will do his best for all." Moreover, in a letter to Father Raymond Hill in 1973, Father Murphy gives us a strong hint as to his own fine character: "I have been blessed grace-wise and health-wise for which I am most grateful and thankful to God. One of my greatest blessings has been the many fine friends I have made among my Maryknoll priests and brothers. I haven't an enemy among them, and there isn't one priest or brother in the entire region that I have had any words with or can't get along with."
A memorial Mass was celebrated at Maryknoll on the 11th of February. The Principal Concelebrant was Father Leo Sommer; the Homilist Father Edward Wroblewski and the Biography read by Father William Knipe. A Mass of Christian Burial took place on the same day in the Cathedral in Musoma, with Bishop Anthony Mayala as principal celebrant. Father Murphy was instrumental in sending Father Misana to the Seminary.
We shall all miss a brother and a friend. However, his many good deeds will live on in our hearts and especially in the hearts of the Tanzanian people with whom he worked for over thirty-six years. May his soul rest in peace.