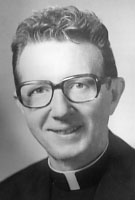 Father William J. Price, MM
Born: April 1, 1925
Ordained: June 9, 1956
Died: February 16, 1998
Father William J. Price died Monday evening, February 16, 1998 at Phelps Memorial Hospital, Tarrytown, New York. He was 72 years of age and a Maryknoll priest for 42 years.
William J. Price was born April 1, 1925 in Utica, New York, only son of William and Cecelia Trapp Price. He attended Sacred Heart Parochial School, Utica and was graduated from Utica Free Academy before entering the Navy in June 1943. He served three years in the Navy, attaining the rank of Pharmacist's Mate Second Class. On June 16, 1946, accompanied by his parents, ever a part of his vocation, he entered Maryknoll Apostolic College (Venard), Clarks Summit, Pennsylvania, and completed his one year of special Latin studies at Maryknoll Junior Seminary in Mountain View, California. In the 1940s he wrote a short reflection paper Why I Came to Maryknoll. In this paper he speaks of his vocation to mission and Maryknoll: "Mission life was what I wanted; knowing that the Church's biggest job was parish work. My dreams were to spend my life on the missions… Because I love Christ, the Catholic Church and my fellow man, I want to see if I can sort of help others learn to love him too. There are millions of people in the world who do not know about God… It will be your missioner who will be the consoler of the sorrowing, the refuge of sinners, and the inspiration of the youth"
He continued his studies at Maryknoll College in Lakewood, New Jersey, Glen Ellyn, Illinois and Maryknoll Major Seminary where he earned his Bachelor of Arts degree in Philosophy in June 1951 and Master of Religious Education in June 1956. Father Price was ordained a priest at Maryknoll Seminary, NY on June 9, 1956 by Francis Cardinal Spellman, Archbishop of New York.
After ordination, Father Price was assigned to Maryknoll's Region in Guatemala, where he worked among the Indians of Toltecan ancestry within the Department of Huehuetenango in northwest Guatemala. In one, Chiantla, the record of baptisms goes back to 1619. Many of these churches, however, had been without priests for as long as half a century. After a six-month Spanish course in the City of Huehuetenango, he was appointed Assistant Pastor in the parish of Jacaltenango. On October 18, 1958 he was named Pastor of Todos Santos Cuchumatan. He was also Pastor of such Parishes as Jacaltenango and San Ildefonso Ixtahuacan prior to his expulsion from Guatemala with two other foreign priests on April 1,1974, for alleged involvement in local political affairs. The entire Guatemalan hierarchy officially protested. Some felt that this was but another sign that the smoldering conflict between a Church on the move and reactionary forces.
On his return to the United States, he was assigned to the Development Department, where he served in Philadelphia from May 1974 to June 1977. While awaiting the outcome of the elections in Guatemala, Father Price participated in the Maryknoll Mission Renewal Program. In January 1978, under a new government, he returned to Guatemala, to continue on in rural Indian Evangelization as Pastor in the Parish of San Pedro Sacatepequez, Guatemala. On August 21, 1981, on the recommendation of Cardinal Casariego, Archbishop of Guatemala, he received the Papal decoration Pro Ecclesia Et Pontifice from His Holiness John Paul II. From July through December 1986 he participated in the Renewal Program for priests run by the Society of Divine Word in Nemi, Italy. In 1987, Father Price returned to the U.S. attending to his aged father and helping out in a parish in Utica, that had a Spanish Apostolate. Just as he had much to offer the U.S. Church from his experience in Guatemala, so on his return to Guatemala in January 1992, the challenges of urban mission have been enriched by those five years of service and learning in the United States.
These forty years have given him great satisfaction. "All the people I have tended, all the good I have done, with and through Christ, much of which might never have happened except that I was there. God uses us in His own ways. Perhaps sometimes we wonder why we were ever called. But along the way, often even unknown to us, lives have been touched and changed and God's Will done."
Father Price was joy-filled, kind and loving. He greeted all as a friend and treated many with compassion and understanding. His presence at the Center and St. Teresa's brought a smile and kindness to many. Father Price will be missed by his Maryknoll Family and his many relatives and friends here and in Guatemala.
Wake services for Father Price will be held on Thursday, February 19,1998, at St. Teresa's Residence Chapel at 7:00 p.m. and at the Queen of Apostles Chapel at 7:30. Mass of Christian Burial will be concelebrated on Friday, February 20,1998 in Queen of Apostles Chapel at 11:00 a.m. with Fr. James Scanlon as Principal Celebrant and Fr. Robert Carleton as the homilist. The graveside service was conducted by Bro. Wayne Fitzpatrick.