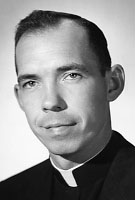 Father William J. Tokus, MM
Born: December 27, 1928
Ordained: June 11, 1960
Died: August 17, 2009
Father William Tokus died at Phelps Memorial Hospital, Sleepy Hollow, New York, on August 17, 2009. He was 80 years old and a Maryknoll priest for 49 years.
William John Tokus was born December 27, 1928, son of William and Antoinette Ramanauskas Tokus, in the city of Worcester, Massachusetts. He has a brother, Edward. He graduated from St. Casimies parochial school and from Classical High School in 1947 and entered Maryknoll in February, 1950. After ordination on June 11, 1960, he was assigned to work in the Shinyanga Diocese in Tanganyika, East Africa.
Father Tokus served as a curate in Shinyanga Town Parish and at the Nassa mission on Lake Victoria and became pastor of the Nyalikungu Parish in 1964. He was known for being a good, hard working missioner, especially with the youth. He returned to the United States for a year in 1967 and took several graduate courses in African Sociology and Cultural Anthropology at Boston University.
In 1971, he became the Resident Chaplain at Shinyanga Secondary School where he ran a Chaplain's Center. After 14 years in this position, he attended the North American College in Rome for four months, and in 1985 he was assigned as Assistant Director of the Dar es Salaam Maryknoll Society House of the Tanzania Region.
In September, 1989 Father Tokus was assigned to the United States Region to manage the business activities of the Business Office at the Maryknoll Center. One of Father Tokus' superiors wrote, "Father Tokus' style, personality and wonderful sense ofhumor are added attractions to the Business Office."
Although Father Tokus was granted the status of retired Maryknoller on April 1, 1999, he continued active service in the Maryknoll Business Office until 2006. In October 2006 he was assigned to the Retirement Community but remained a resident in the Society Center building.
Wake services were held at 4:30 p.m. on August 24, 2009 at St. Teresa's and at 7:30 p.m. in Queen of Apostles Chapel at Maryknoll Center where Father Edward M. Wroblewski officiated and Father Lionel A. Bouffard read the biography. Mass of Christian Burial was concelebrated in Queen of Apostles Chapel on August 25, 2009 at 11:00 a.m. Father John E. Keegan was Principal Celebrant homilist. Burial followed in Maryknoll Society Cemetery with Father Edward J. McGovern conducting the graveside service.