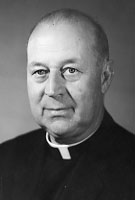 Father William M. Mackesy, MM
Born: January 31, 1906
Ordained: June 17, 1934
Died: August 27, 1996
Father William McDonald Mackesy died of heart failure at 8:15 p.m. on Tuesday, August 27, 1996, at Phelps Memorial Hospital Center in North Tarrytown, New York. He was 90 years old and Maryknoll priest for 62 years.
William was born on January 31, 1906, in Lynn, Massachusetts, son of John Henry and Margaret McDonald Mackesy. He had one brother and two sisters. His sister Margaret became Sister Aloyse Patricia of the Congregation of Notre Dame de Namur. His cousin, Father Robert Mackesy, is a Maryknoll priest ordained in 1947 who served in Hawaii and on Development work in the United States before his retirement. William attended St. Mary's Parochial School and graduated from Lynn English School. He attended Colby College in Waterville, Maine, for one year and Holy Cross College in Worcester, Massachusetts, for one year. Although he had thoughts of becoming a priest while in grammar school, it was in the Chapel of Mt. St. James at Holy Cross College that he first felt the call of a religious vocation. He learned of Maryknoll from a Jesuit advisor and from his pastor, both of whom encouraged him to visit Maryknoll in New York. He did so and at the end of the visit filled out his application. On September 13, 1926, he entered Maryknoll Apostolic College (Venard), Clarks Summit, Pennsylvania and on June 17, 1934 was ordained a priest at Maryknoll Seminary in Ossining, New York.
On July 29, 1934, Father Mackesy was assigned to the newly established Maryknoll Mission in Kyoto, Japan. He became quite proficient in the Japanese language and he was assigned to the Kyoto Center House to assist newly arrived Maryknollers in their language studies. In 1939, he became Pastor of the new Tsu Mission with its two attached mission stations. With the beginning of World War II in the Pacific on December 8,1941, he was interned with other Maryknollers by the Japanese military. He was repatriated to the United States in August 1942 aboard the Swedish ship "M.S. Gripsholm." During the war years he served in St. Paul's Parish, Clifton, New Jersey, for one year, and then in St. Lawrence Parish, New Bedford, Massachusetts.
Father Mackesy returned to Japan on April 16, 1946 and was appointed assistant Pastor of St. Francis Xavier Church in Kyoto. In 1949, he became Pastor of a new mission in the section of Kyoto called Sam. His Superior at the time observed that he was a good, level-headed priest endowed with common sense, good judgement and a sense of humor. He was zealous with the youth and developed small groups of Catholics as he built up the parish. In March 1950, he was appointed First Consultor to the Society Superior in Japan, and when the Superior was on Home Leave he served as Acting Society Superior.
While on Home Leave in 1956, Father Mackesy was assigned to Maryknoll's St. Francis Xavier Japanese Mission in Los Angeles, California, where he served until reassigned to Japan in November 1958. Upon his return to Kyoto, he served as the Chaplain at the Kusatsu Sanatarium in Shiga Prefecture for a number of years. For health related reasons, he moved to Tokyo in 1960, and served as Director of the Maryknoll Language students and Local Superior in the Tokyo Center House during 1963 and 1964. Next, he was appointed pastor of Kameyama Catholic Mission, a country parish with a small congregation.
At the end of his Home Leave in 1970, he was assigned to the United States Region on October 28 and took up residence again at the Japanese Mission in Los Angeles. At his request, he formally retired and was assigned to the Special Society Unit on February 18, 1976, and moved to Maryknoll Residence in Los Altos, California. After the Loma Prieta earthquake which badly damaged the Residence in October 1989, Father Mackesy moved to St. Teresa's Residence at Maryknoll Center, New York, where he resided until his death.
At various times during his long missionary career, Father Mackesy's Superiors commented that he was a good priest and missioner with a good understanding of human nature. He liked people and was liked by them. He was self-reliant while at the same time humble and cooperative. His fellow missioners attested that he was friendly and easy to live with.
Wake services for Father Mackesy were held on Thursday evening at 7:00 p.m. at St. Teresa's Residence Chapel and at 7:30 p.m. in Our Lady Queen of Apostles Chapel at Maryknoll Center, where Father Joseph LaMar presided. Mass of Christian Burial was concelebrated in Our Lady Queen of Apostles Chapel on Friday, August 30 at 11:30 a.m. with Father Emile Dumas as Principal Celebrant and Father Robert Reiley as homilist. Following the Mass, Father Stephen Judd presided at the graveside service at Maryknoll Cemetery.