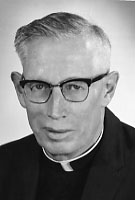 Father William M. O'Brien, MM
Born: October 13, 1901
Ordained: June 19, 1927
Died: September 24, 1971
William A. O'Brien was born in Chicago on October 13, 1901. He attended local public and parochial schools and one year at Loyola University before coming to Maryknoll in 1921.
After his ordination on June 19, 1927 he was assigned to Kaying. He returned to the United States in 1949 and in 1952 was assigned to Formosa for Hakka work. He was last in the States on home leave in 1969. Fr. O'Brien spent most of his years opening up new missions, working among the aborigines by choice and, according to his superiors, "continued to climb mountains until the end. There is probably no man as well loved by his people and fellow missioners. What more could you ask?"
Father died on September 24, 1971 in Taiwan. A concelebrated Mass was offered at Maryknoll on the 27th. Burial was in Taiwan.