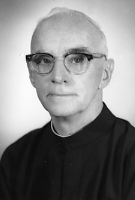 Father William R. Booth, MM
Born: November 30, 1898
Ordained: May 31, 1925
Died: October 15, 1973
William R. Booth was born in Brooklyn, N.Y. on November 30, 1898. He went to St. Rose of Lima Parochial School and was graduated from Brooklyn Prep in 1916. He received a B.A. degree from Holy Cross College in 1920. Entering Fordham Law School the following year, he joined Maryknoll in 1921 before completing his studies.
Father Booth was ordained on May 31, 1925 and assigned to the Prefecture of Peng Yang, Korea. He was appointed Society Superior of Peng Yang in 1930 and Apostolic Administrator in 1936. From 1932 to 1935 he served as first Director of the Novitiate at Bedford and then returned to Korea. In 1942 he was among those repatriated on the Gripsholm. In 1944 he was assigned to Temuco, Chile and served there for one year, then returning to Korea in 1945, he was named a delegate to the Third General Chapter of 1946.
When the Communists took over in Korea in 1950 he was taken into custody with Archbishop Byrne in Seoul, imprisoned and marched to the North, suffering many hardships. He was released and arrived back in the U.S. via Moscow in May of 1953. In 1955 he returned again to Korea where he served until 1961. Due to poor health he was forced to return to America and served in several of the Society's houses until he retired to St. Teresa's in 1966.
Father Booth attributed his vocation to the Field Afar magazine. He will be remembered for his dedication to and love of the Korean people, his loyalty to the high ideals of Maryknoll and his detachment from material things. Even at a recent date he had expressed the wish to return to Korea.
A Vigil Service was held on the evening of October 16 and the following day the funeral Mass was concelebrated with Fr. Thomas Walsh as principal celebrant and Fr. Booth's classmate, Fr. Robert Sheridan as homilist. Burial followed at Maryknoll.