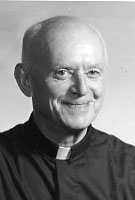 Father William R. McCarthy, MM
Born: November 19, 1897
Ordained: June 16, 1940
Died: July 21, 1997
Father William R. McCarthy died at St. Teresa's Residence, Maryknoll, New York, on Monday, July 21, 1997, at 7:00 p.m. He was 99 years old and a Maryknoll priest for 57 years.
William was born on November 19, 1897, son of John and Mary Doody McCarthy, in Waterbury, Connecticut. He was the youngest of five children. He had two brothers and two sisters. His primary education took place in St. Mary's Parochial School and Crosby High School in Waterbury. In 1921, he studied law for one year at Georgetown Law School and then continued studying law in Waterbury under the guidance of a local attorney. From 1921 to 1931, he was a one-third owner of the Brass City Plumbing Supply Co. in Waterbury where he worked for ten years.
William entered Maryknoll Apostolic College (Venard), Clarks Summit, Pennsylvania, at the age of 35, on January 5, 1932. He was ordained a priest at Maryknoll Seminary in Ossining, New York, on June 16, 1940.
After ordination, Father McCarthy was assigned to the Maryknoll Mission in the Philippine Islands. During his first year, he worked in the Catholic Action program in Cebu City. He also served as a non-commissioned chaplain at a U.S. Army post. With the outbreak of World War II in the Pacific, Father McCarthy was interned by the Japanese army in the Santa Tomas Internment Camp in Manila. He was later transferred, in May 1943, to the Los Banos Internment Camp. Living conditions and the food were extremely bad and during his 34 months of internment. He worked well with the other war prisoners and gained their utmost respect and confidence. He was liberated on February 23, 1945, by the Eleventh Airborne Division of the U.S. Army and returned to the United States on December 18, 1945.
On July 1, 1946, Father McCarthy was assigned to the Maryknoll Mission in Lima, Peru, to work with the Chinese community there. He was appointed Superior of the Lima Society House on August 18, 1946, and Second Consultor to the Society Superior. Two years later he was appointed First Consultor. Under his supervision, a new Society House was built in the Miraflores section of Lima. He was engaged in the Archdiocesan Catholic Action program. In 1954, he started the first Serra Club – an association of Catholic laymen interested in promoting religious vocations – in South America. On February 14, 1958, he was appointed pastor of Parroquia del Nino Jesus in a very poor section of the Ciudad de Dios area of Lima and remained there until 1964. In September 1962, he was appointed Director of the Caritas Office of the Catholic Relief Services for the Archdiocese of Lima and remained in that position until 1974. In the parish, he supervised the construction of a new church, rectory, convent, school and social hall. He obtained donations from any source he could find and was greatly aided by Cardinal Cushing of Boston, Massachusetts, who paid for and dedicated the new church. He started various parish organizations, such as a Catholic Action group to work with the poor and the Legion of Mary for young women. He also helped the priests of the St. James Society from Boston get established in Peru.
Father McCarthy was a tremendous personal relations man. He was well-known and liked among U.S. Embassy people and various persons in Peruvian government and business circles and knew exactly who to see to get things done. In 1967, he was elected vice-president of the Foreign Agencies Association, which is composed of social, educational and religious organizations working in Peru. He wrote, "One of my hobbies is called the Apostolate of the Printed Word. I have 345 subscriptions per year and distribute Maryknoll magazine subscriptions to my friends in the U.S. and in Peru. I also distribute 50 copies a month in barbershops, doctors' offices, hospitals, etc. and any visitors to my office." In his later years, Father McCarthy passed out thousands of calling-card-size cards that contrasted the mystery of God with the mystery of how the watermelon seed can draw from the ground through itself 200,000 times its weight.
Father McCarthy served for 28 years in Peru and at the age of 76 returned to the United States. At his own request, he was assigned to the New York City Development House on July 1, 1974. He moved to St. Teresa's Residence at Maryknoll Center, New York, on September 2, 1983 and was assigned to the Special Society Unit on March 10, 1986.
Wake services were held on July 23, 1997 at St. Teresa's Residence Chapel at 7:00 PM and at the Queen of Apostles Chapel at 7:30PM. Mass of Christian Burial was celebrated on July 24, 1997 in Queen of Apostles Chapel at 11:00 AM. The Principal Celebrant was Father McCarthy's cousin, Father Jeffrey Walsh, and the Homilist was Father James Madden, M.M. Graveside services were conducted by Father Raymond Finch.