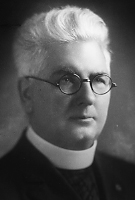 Father William S. Kress, MM
Born: February 15, 1863
Ordained: May 28, 1888
Died: March 1, 1936
Father William S. Kress, a priest for forty-eight years, was born in East Liverpool, Ohio on February 15, 1863. He studied for the priesthood at St. Vincent's College, Latrobe, Pennsylvania and St. Mary's Seminary in Cleveland, Ohio, where he was ordained on May 28, 1888.
After a period of three years at Catholic University in Washington, where he was among a group of pioneer students, Father Kress returned to Cleveland. Bishop Horstmann, who felt a responsibility for the souls of Catholics and non-Catholics alike, formed the Cleveland Apostolate, a band of diocesan priests who preached to both Catholics and non-Catholics in missions throughout the United States. Father Kress was one of the three original members of this group and was later appointed its leader. While operating in this capacity he also wrote several books on socialism and economics.
In 1920, when circumstances brought about the discontinuance of the Apostolate, he resigned his position as pastor of St. Edward's Parish in Cleveland, to join Maryknoll. It was not easy for Father Kress, at the age of fifty-eight, to start learning new languages and customs in preparation for an overseas assignment. However, he was well fitted for the task of caring for the Orientals under the American flag. Thus he spent the greater part of his last sixteen years tending souls for Christ in our Japanese Mission in California and he also started our Sacred Heart Parish in Honolulu, where there was an opportunity to bring Orientals to the Faith.
Father Kress died on March 1, 1936 in St. Vibiana Hospital, Los Angeles and was buried from St. Vibiana Cathedral with a Solemn Mass of Requiem celebrated by Father H.T. Laverv, M.L., his assistant at the Japanese Mission. On the same day in Cleveland Bishop Joseph Schrembs celebrated a Pontifical Requiem Mass. The eulogy was preached by Fr. Edward P. Graham, a former associate in the Cleveland Apostolate and close friend. Father Kress was interred in the Maryknoll plot in Calvary Cemetery of the Diocese of Los Angeles.