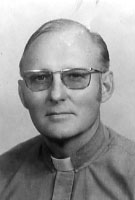 Father William S. Nolan, MM
Born: October 8, 1928
Ordained: June 9, 1956
Died: July 7, 1990
Father William Stephen Nolan died suddenly on July 7, 1990. He was 61 years old and a Maryknoll priest for 34 years.
William Stephen Nolan was born on October 8, 1928 to William Francis Nolan and Clara Bomalaski in Cincinnati. He had one brother and one sister. Early education was in Cincinnati. He was graduated from Carroll College, Helena, Montana and applied to Maryknoll the same year, 1950, while taking summer courses in Xavier University, Cincinnati. In his application he wrote that the mission idea came to him from talks he had heard from Maryknoll priests during high school years. His pastor wrote: "He is a young man of good habits and morals." The President of Carroll College wrote: "His record evidences resourcefulness, orderliness, systematic planning, accuracy and originality."
He was ordained on June 9, 1956 and assigned to Bolivia. From January to June the following year he suffered from poor health, both at the language school in Cochabamba and in Lima where he had been sent for medical attention. He returned to the U.S. in 1957 and after receiving medical attention was assigned to the Education Department. He stayed in this work for 14 years on the Mountain View, Venard and Chesterfield Faculties, also filling needs in both Treasury and Development Departments.
One superior wrote during this period: "Fr. Nolan has shown himself an example of Maryknoll training and formation. He is actively interested in all that concerns the seminary and his own spiritual life, always ready to lend a hand and do his best. He is constant in his spiritual life and a good example to all." During this time he took a number of short university courses, displaying himself interested in improving himself in a variety of fields, e.g., art history, drawing, public speaking, group dynamics, typing, English literature, health education and secondary school curriculum construction. In addition he earned an M.A. Degree by taking summer courses at Xavier University During all this time he persistently expressed to the Superior General his interest in returning to his mission, but, because of the Society's great need for his talents, he had to be content with doing some summer work in Guatemala.
In 1971 Father Bill received his long-awaited reassignment, this time to Venezuela. Among his works there was the establishment of a House of Prayer at the service of the charismatic renewal in Caracas. This appears to be the beginning of his interest in charismatic work and this continued for the rest of his life. In 1980, after his Mission Renewal Program at the Center he accepted an assignment as the first superior of the Caracas Center House. He was considered by his fellow priests as a fine person, a dedicated priest, one who was personable and effective, and who related well with people.
Health concerns forced him to return to the States in October, 1981 where he took up some pastoral work and short courses. On leaving Venezuela his superior wrote: "It is not easy to lose a man of Bill's caliber. He will be sorely missed. He has been a fine missioner, a credit to Maryknoll." One of his hopes was the foundation of a House of Prayer near Maryknoll. He wrote: "In no way at all do I have in mind a house of charismatics shouting in tongues and bombarding others with threatening prophecies. I have in mind a place where others love to go and want to share." After various consultations Father Bill was assigned to Chile in 1982 and in his new parish of La Florida in Santiago he formed a few charismatic groups and brought in Peruvian lay missioners and local seminarians to assist.
In November, 1989, Bill began planning a 'mini-sabbatical' in 1990 and lined up various courses including participation in the Formative Awareness Process. He was to end this sabbatical with the retreat in Syracuse where he died.
Mass of Christian Burial was celebrated at St. Francis de Sales Parish in Cincinnati on July 14th and burial followed in the family plot in St. Joseph's Cemetery. A Mass was offered at Maryknoll Center on the 12th with Fr. William Frazier as principal celebrant and homilist. Since so few were at the Center at that time, another memorial Mass will be celebrated on September 25.