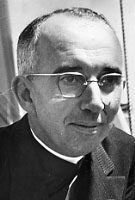 Father William T. Cummings, MM
Born: October 30, 1903
Ordained: June 16, 1928
Died: January 18, 1945
Father William T. Cummings was born on October 30, 1903 in San Francisco. Because there was no Catholic school in the area he was enrolled at the Freemont Grammar School. For religious instruction he attended Sunday School under the direction of the Holy Family Sisters, and upon graduation at the age of thirteen he had a desire to become a priest. He attended St. Patrick's Seminary at Menlo Park in 1917 and was there for the next ten years.
In September of 19l8 Father Cummings was present at a talk given by Father Price who was then on his way to China. To that inspiring conference he attributed the beginning of his missionary calling. He wanted to come to Maryknoll at the beginning of his second year of Philosophy. This first attempt met with parental objections. The next year he could not go because he was unable to get the permission of his Ordinary who was in Rome. When he was ready for his third attempt his mother became very ill and so he finished another year, his second of Theology, at St. Patrick's. At last, in August of 1926, he started for Maryknoll.
After his last two years of Theology and ordination (June 16, 1928) he was assigned to Los Altos. He taught during the year 1928-29 and was Spiritual Director during 1929-30. Then he was assigned to promotion in San Francisco, assisting Father Keller. He did promotion work for the next ten years.
Despite his physical ailments, he had a great desire to go to the missions. In April of 1940 he was assigned to Manila but his back once again caused him trouble. Nevertheless, he begged his superiors not to let the operation be a cause for a change of assignment.
In Manila he taught for a while at the Maryknoll Sisters' school. Then came the war with Japan. He became a chaplain, and during the years of captivity he gave himself to the men and the work. In his book "Give Us This Day" Sidney Steward paints a moving picture of the sufferings the Americans underwent during the Second World War after the fall of Bataan. He describes the dreadful details of their ordeal in the prison camps and in the hold of the prison ship. Father Cummings' heroism and charity will ever remain a tribute to him. After several years of suffering which he shared with his men, he himself succumbed on January 18, 1945. His death is summed up in the following words: "he died as he would have wanted to die, praying to the God he believed in, to the God that gave him strength." His remains were consigned to the sea some place en route between the Philippines and Japan.