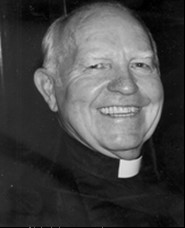 Father William T. Madden, MM
Born: October 26, 1925
Ordained: June 14, 1958
Died: June 17, 2023
Father William T. Madden died on June 17, 2023 in the Assisted Living Unit at Maryknoll, New York. He was 97 years old and a Maryknoll priest for 65 years.
William Thomas Madden, only son of William and Frances Keane Madden, was born on October 26, 1925 in Orange, New Jersey. He had one sister, Mary, who died in 1963. He attended public schools in South Orange and Maplewood and graduated from Columbia High School in June 1943. After serving one year in the U.S. Merchant Marine, he joined the U.S. Army. He attained the rank of Sergeant and during World War II, served in Europe with the 103rd Infantry Division and was awarded the Bronze Star Medal and Combat Infantry Badge. After the war, he attended Seton Hall College and graduated in 1949 with a B.S. Degree in Accounting.
William worked in New York City until he entered Maryknoll on September 5, 1951. He received a Masters of Religious Education degree and was ordained on June 14, 1958. Father Madden was immediately assigned to mission in Tanzania, East Africa where he did pastoral work in the Musoma Diocese for many years. In April 1969, he was appointed Third Consultor for the Africa Region.
In 1975, Father Madden was assigned to the Development Department and appointed Manager of the New York City Residence. During this time, he also worked in the inner city parish of St. Antoninus Church in Newark, New Jersey.
In October 1976, Father Madden was reassigned to the Africa Region to do pastoral work in Eldoret Diocese in Kenya. He was appointed the first Regional Superior of the newly established Kenya Region in April 1978, and reappointed for a second term in May 1981. After completion of six years as Regional Superior, in September 1984, Father Madden was again assigned to work in the United States in the Treasury Department. He worked in Treasury for two years, and in 1986 returned to mission in Kenya. During his years in Kenya, besides being in pastoral and administrative work, Father Madden also was very active in the Charismatic Renewal and was on the National Service Team from its beginning in 1977.
Father Madden left Kenya in December 1992 and in January 1993 began work in the Controllers Office at Maryknoll, New York. After a sabbatical in 1999, he was assigned to the Retirement Community (now Senior Missioner Community) in May 2000, and worked part-time with the Society's Health Services as well as with the Society's Business Office. Father Madden also helped out in local parishes and belonged to a Prayer Group at Holy Rosary Church in Hawthorne, New York.  He resided at the Maryknoll Society Center in Ossining, New York.
Father Madden is survived by his nephew, Roy (Marni) Kolarsick; his neice, Karen (Tom) Traina; his cousin, Michael (Sheila) Madden, and his many friends.
Wake services were held on June 22, 2023 in the Holy Spirit Chapel and the Queen of Apostles Chapel at the Maryknoll Society Center. Mass of Christian Burial followed at 11:00 a.m. and was concelebrated in the Queen of Apostles Chapel. Father John Lange was the Celebrant and Father Michael Snyder was homilist. Father Francis Breen read the biography and Father Edward Davis read the Oath. Burial followed in the Maryknoll Society Cemetery with Father John Sivalon presiding at the graveside prayers.