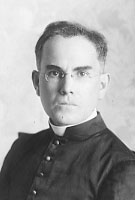 Father William T. McKenna, MM
Born: April 13, 1883
Ordained: December 22, 1906
Died: November 30, 1923
Walters McKenna was born in Baltimore on April 13, 1883. He attended St. Mary's Seminary in Baltimore and on December 22, 1906 he was ordained a priest. During the first years of his priestly life, Father McKenna held three curate positions in Baltimore and one, for twelve years, in Cumberland. Just previous to his entry into Maryknoll he served as an Army chaplain.
On September 23, 1919 Father McKenna entered Maryknoll to begin his life as a missioner. In 1920 he was assigned to Loting, South China where he labored for fifteen months and baptized some sixty-nine infants.
Father resigned from Maryknoll on December 4, 1921 and entered the Jaro Diocese, Philippine Islands, under Bishop J.B. McCloskey. While working there he fell ill and died on November 30, 1923.
Thirteen years after his death, Father McKenna was reinstated as a Maryknoller by action of the 1936 General Chapter.