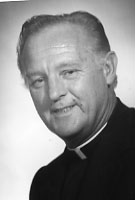 Father William T. O'Leary, MM
Born: May 6, 1934
Ordained: June 10, 1961
Died: February 2, 2007
Father William T. O'Leary died at St. Teresa's on February 2, 2007. He was 72 years old and a Maryknoll priest for 45 years.
William Thomas O'Leary was born in West Orange, New Jersey on May 6, 1934 to Joseph Patrick and Mary Ann Feely O'Leary, the second of three sons. He graduated from Our Lady of Lourdes Elementary School in West Orange, NJ in 1948. After attending Regis High School in New York City he graduated from Seton Hall Preparatory High School in South Orange, NJ. He attended Seton Hall University for one year, and joined Maryknoll in September 1953. He graduated from Maryknoll College in Glen Ellyn, Illinois with a Bachelor of Arts Degree. He went on to a Novitiate year in Bedford, Massachusetts and then four years of theological Masters Degree studies at Maryknoll, NY. He was ordained a Maryknoll priest on June 10, 1961, and on June 11 of that year he was assigned to the Maryknoll Mission Region of Korea.
Father O'Leary served as pastor of two parishes in Pusan City and became involved in the labor apostolate in the diocese until December of 1972 when he was elected to the General Council of Maryknoll. At the end of his term on the General Council he was reassigned to Korea. In January 1980 he founded a new parish in the Ju An section of the City of Inchon.
Father O'Leary served in Korea until January 1983, when he was assigned, as a member of a Maryknoll team, to pioneer a new mission to the people of Thailand. He worked the next three years at an agricultural project in a rural province in northeast Thailand bordering Laos. In 1986 he was assigned to the City of Bangkok where he helped to design and run an apostolate for migrant people flooding into the city. He also became chaplain to a rapidly growing Korean Catholic community in Bangkok.
In 1990 he was assigned to Cambodia and directed a skill-training school for amputee landmine victims in the capital city of Phnom Penh. He also helped thousands of ethnic Vietnamese fishing people living along the rivers inside Cambodia.
In 1993 he was assigned to Vietnam where he began another skill-training school in Nam Ha Province southeast of Hanoi City. In 1996 he returned to Bangkok, Thailand where he continued his work among migrant people in Southeast Asia. At this time, Father O'Leary was instrumental in establishing the Maryknoll Asian Migrant Ministry group which is still active. He saved one of the most physically demanding assignments for last, in that, in 2003 he went to East Timor and lived in a small rural mountain parish, without electricity or running water,shepherding the people in their faith. He remained there until late fall 2005 when he returned to Marykuoll, New York for medical reasons and in November, 2006 went to St. Teresa's Residence.
Father O'Leary was an energetic and sympathetic person; creative in how he worked first with Korean workers, then discovering new ways in which to reach out and support the various immigrant populations throughout Asia, finally ending his missionary career in East Timor. He was a creative missioner who served on the General Council under Father Raymond Hill. He brought about significant changes in the status of the Maryknoll Brothers, giving them opportunities for further education and their rightful place in Society government. He was a team member and recognized the potential of others. That trust brought out the best in them. He was always young in his thinking; he was truly a mentor of many missioners and a great friend of priests.
Wake services were held at 4:30 p.m. on February 6, 2007 at St. Teresa's where Father William Mclntire, who served on the General Council with Father O'Leary, presided. Wake services were at 7:30 p.m. in Queen of Apostles Chapel at Maryknoll Center where Father Joseph Veneroso officiated, Father Raymond Sullivan read the biography and Sr. Meg Gallagher, MM gave the sermon. Mass of Christian Burial was concelebrated in Queen of Apostles Chapel on February 7, 2007 at 11:00 a.m. Father Michael Zunno was Principal Celebrant and Father John Barth homilist. Burial followed in Maryknoll Society Cemetery with Father John Sivalon conducting the graveside service.