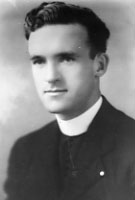 Father William V. Whitlow, MM
Born: September 3, 1904
Ordained: June 11, 1933
Died: December 31, 1957
William V. Whitlow was born in New York City on September 3, 1904. He attended St. Joseph of the Holy Family School in that city and after graduation worked as a clerk in a chain store. He entered the Venard in September of 1922 and was ordained on June 11, 1933.
His first assignment was to Japan. Three years later he was chosen as Delegate to the 1936 General Chapter in Hong Kong, representing the Japanese, Philippine and Hong Kong groups. The following year he was appointed Society Superior in Japan.
The poor health that was to plague him for the rest of his life made it necessary for him to take an anticipated furlough in 1941 and he spent the following year in Los Angeles. In April of 1943 he was asked to teach Japanese to military students at Holy Cross College in Worcester, but after a few months his health broke down and he was unable to do so. After his discharge from the hospital he was assigned to the Los Angeles Japanese Mission. In spite of his weak health he worked hard among the Japanese youth at the Mission.
In 1956 Father Whitlow was recalled to Maryknoll and in September of 1957 was assigned to Brookline. For a while he seemed to improve and was able to say Mass, but soon was facing health concerns again.
Father Whitlow died at Brookline on December 31, 1957. The funeral was held at Maryknoll. Fr. Thomas Nolan was celebrant of the Solemn Requiem Mass, Fr. Arthur Kiernan acted as Deacon and Fr. Michael Walsh as Subdeacon. Interment was at Maryknoll.