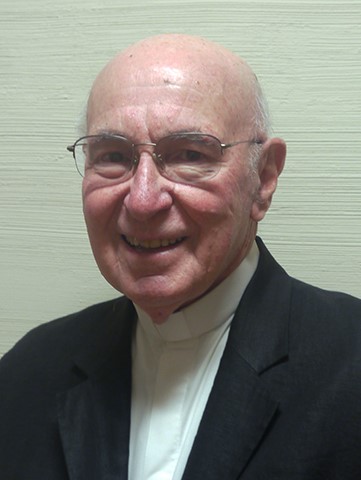 Fr. John A. Cioppa, MM
Born: June 14, 1932
Ordained: June 13, 1959
Died: September 26, 2023
Father John A. Cioppa died on September 26, 2023 in the Assisted Living Unit at Maryknoll, New York. He was 91 years old and a Maryknoll priest for 64 years.
John Cioppa was born in Green Island, New York on June 14, 1932, one of three children of Antimo and Theresa Capuano Cioppa. His early schooling was at Heatly School in Green Island and La Salle Institute in Troy, New York. Upon graduation from high school in 1949, he entered the Maryknoll Seminary where he studied for ten years completing college and graduate studies in Theology. He was ordained on June 13, 1959 at Maryknoll Seminary in Ossining, New York.
After ordination Father Cioppa was assigned to Hong Kong, which was a British Colony at the time and was teeming with refugees from China. After language study he taught high school and did parish and relief work at the Bishop Ford Centre. In 1963 he opened the Bishop Walsh primary school for 2,000 local children. On his first furlough in 1965, Father Cioppa worked for a time in Chicago's Chinatown and upon returning to Hong Kong was assigned as pastor of St. John's parish in Kwun Tong, a rapidly growing industrial area. He worked on plans for a Pastoral Centre and boy's high school, both of which opened in 1972. This became the focal point and center of activity for a team of Maryknoll priests who ministered to five neighboring parishes.
In July 1973, Father Cioppa was elected Regional Superior of the Hong Kong Region, a time when the Hong Kong Church was in a process of localization. Bishop Hsu, its first Chinese Bishop, was named Ordinary in 1992. Father Cioppa oversaw the phasing over of many of the Maryknoll schools and mission works to the local diocese. In 1978, he was granted a visa for China and was the first Maryknoll priest to re-enter China since the Communist takeover in 1949. Soon afterwards he was able to pay a visit to the priests and Sisters of Kongmoon, Maryknoll's first mission in China.
Also in 1978, Father Cioppa attended the Seventh General Chapter at Maryknoll, New York where he was elected an Assistant General of the Society. During his six-year term on the General Council he was liaison for all of Maryknoll's Regions and Units in Asia and helped the Maryknoll Society begin a new response to China. At the completion of his term, the new Superior General, Father Boteler, asked Father Cioppa to oversee an operational audit of the Center's business operations.
In 1987, after some brief studies at the University of Hawaii, Father Cioppa returned to Hong Kong. He resumed pastoral work at St. Patrick's Parish in Kowloon, and at the request of Cardinal Wu, became Projects Director at the Holy Spirit Study Centre. This was a diocesan research institute that related to the Church in China. In 2008, Father Cioppa was named Local Superior of Hong Kong.
After serving in mission in Hong Kong for over 50 years, Father Cioppa returned to Maryknoll, New York in 2016 and was assigned to the Senior Missioner Community. He resided at the Society Center. Father Cioppa reflected that being closely related to and responsible for Maryknoll's response to China was a high point of his mission career. He said, "It was both a challenge and most rewarding for a Westerner to live and work with the Chinese people."
Father Cioppa is survived by his sister, Joanne Cobart and her husband Wes; his brother-in-law, Carl Larson; his five nephews and three nieces, as well as several grandnieces and grandnephews. He was predeceased by his sister, Marianne Larson.
Wake services were held on October 2, 2023 in the Holy Spirit Chapel and the Queen of Apostles Chapel at the Maryknoll Society Center. Mass of Christian Burial followed at 11:00 a.m. and was concelebrated in the Queen of Apostles Chapel. Father Timothy Kilkelly was the Celebrant and Father Peter Barry was homilist. Father Shaun Crumb read the biography and Brother Joseph Bruener read the Oath. Burial followed in the Maryknoll Society Cemetery with Father Juan Zuñiga presiding at the graveside prayers.