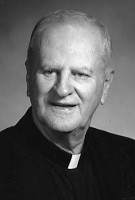 Fr. Thomas H. Keefe, MM
Born: May 28, 1928
Ordained: June 11, 1955
Died: August 16, 2013
Father Thomas H. Keefe died on August 16, 2013 at St. Teresa's Residence. He was 85 years old and a Maryknoll priest for 58 years.
Thomas Hughes Keefe was born May 28, 1928 in Poughkeepsie, New York, son of Leo John and Marion Hughes Keefe. He had one brother, Leo, and two sisters, Mary and Sheila. He graduated from St. Rose of Lima Grade School, Short Hills, New Jersey, in 1942 and Seton Hall Preparatory School, South Orange, New Jersey, in 1946. He entered Maryknoll Apostolic College (Venard) in Clarks Summit, Pennsylvania in May of 1946 to begin college-level training for Maryknoll. His seminary studies were continued at Lakewood, New Jersey, and completed at Maryknoll Seminary with a one-year Novitiate at Bedford, Massachusetts. He received his Master of Religious Education degree in 1954. Ordination to Priesthood took place at Maryknoll on June 11, 1955.
After ordination, Father Keefe was assigned to Tanzania, East Africa. He started the Mission of Wira in Shinyanga Diocese in 1958. Then in 1961 he started a second new Mission at Ndoleleji, Shinyanga Diocese. In 1966 he was appointed Second Consultor for the Africa Region.
Father Keefe returned to the United States on Home Leave in 1967. While visiting Maryknoll, he was asked to serve on the Maryknoll Seminary Faculty. After three years as a faculty member, he was appointed Rector of the Major Seminary, a position he held from 1971 until 1974. Then from 1974 to 1978 he served on the staff of the Maryknoll Novitiate in Hingham, Massachusetts.
In 1978 he was assigned to a newly formed Mission Unit in Zambia, Africa. While preparing for that assignment, the sudden death of a Maryknoller in the Sudan Unit caused the Zambia assignment to be changed to an assignment to the Sudan Unit. Father Keefe worked for two years in Sudan running a national training center for pastoral, liturgical, and catechetical education for Sudanese Priests, Brothers, and Catechists. He transferred to the Kenya Region in 1980, where he worked in the Maryknoll parishes of Jericho and Umoja.
Father Keefe returned to the United States for Development work in 1984. He was Director of the West Hempstead House for two years. From 1986 to 1988 he served on the faculty of Cathedral College Seminary at Douglaston, New York, which was being attended by two Maryknoll priesthood candidates.
In 1988 he returned to the Kenya Region where he worked for one year at Athi River Parish, then served for two additional years as Pastor of Umoja Parish in Nairobi. He was reassigned to the U.S. Region in 1991 for study to prepare him for a position as Director of the Office of Continuing Formation/Education, a position he held until January 1, 1996.
Father Keefe served in numerous capacities at Maryknoll: Member of the Central Salaried Personnel Board; Assistant for Maryknoll WEB; Executive Secretary of the Committee for Restructuring throughout the Society; and Recording Secretary at Inter-Chapter Society Assembly. He was assigned to the Retirement Community on December 1, 1999 with residence at the Maryknoll Center and continued to be active with various ministries, including a weekly one with the Sisters at Marymount. Because of declining health, Father Keefe moved to Mission St. Teresa's in December 2009.
Wake services were held at 4:30 p.m. on August 20, 2013 at St. Teresa's, and at 7:30 p.m. in Queen of Apostles Chapel at Maryknoll Center where Father Kenneth Sullivan officiated and Father Ernie Brunelle read the biography. Mass of Christian Burial was concelebrated in Queen of Apostles Chapel on August 21, 2013 at 11:00 a.m. Father Maurice Zerr was Principal Celebrant and Father George Cotter homilist. Burial followed in Maryknoll Society Cemetery with Father Edward McGovern conducting the graveside service.