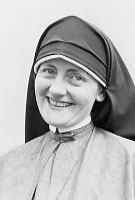 Mother Mary Columba Tarpey, MM
Born: January 4, 1892
Entered: December 7, 1919
Died: August 27, 1979
Welcome to all as we gather to celebrate the fullness of life of our Sister in faith and mission in Maryknoll, Mother Mary Columba.
Our hope in the fullness of life promised by Jesus is intimately related to our limited experience in time and on earth, as was His. Thus, our celebration today is one of living remembrance as well as of hope.
Sister Mary Columba became Mother General at a critical moment within Maryknoll, as she was chosen to succeed Mother Mary Joseph in 1947. The moment was critical for many reasons – both internal and external – to Maryknoll.
After World War II, the global political realities were shifting. The doors of China were swinging closed to our continued presence there. We were discovering many alternatives for our mission presence and efforts throughout the world. At this same time, there was a great increase in vocations to the Religious life in general and Maryknoll was no exception, as hundreds of women were being received into our Congregation. In short, we had a great many requests for Maryknoll Sisters throughout the world, and rapidly increasing personnel to be prepared in order to respond.
Internally, a change in leadership could have been terribly disruptive and could have severely hampered our participation in the mission of the Church and confused our identity and purpose. This did not happen; it became instead a "time of Growth and Expansion."
Mother Mary Columba's service as Mother General was rooted in her faithfulness to the vision, ideals and commitments of Mother Mary Joseph. This faithfulness was enriched by their deep personal friendship. In 1932, Mother Mary Joseph gave Sister Mary Columba a clock for Christmas, accompanied by this note – "Sister Columba dear – may every tick of this clock find us more closely united in love of one another and of God. In the Christ Child – MMJ." One of the characteristics of their friendship was the great diversity and complementarity of talents, which bore fruit in a unique type of leadership in Maryknoll during these years. Mother Mary Joseph once remarked: "I get the ideas and the credit for them, but it is Mother Mary Columba who sets them in motion." Recognizing Mother Mary Joseph's continued spiritual leadership, Mother Mary Columba provided many opportunities for her to give retreats and write congregational letters through which the Spirit and vision of the Maryknoll Sisters continued to grow and be enriched. Thus, through their friendship and shared commitment, each continued to develop and use her talents for the good of the Congregation. Mother Mary Columba was a talented organizer and planner and at this particular time of expansion, her talents were indispensable. The opening of two large Novitiates: Valley Park and Topsfield; the beginning of our presence in Tanzania, Micronesia, Chile, Mexico, Peru, Guatemala and Taiwan – are essential to who we are today as a community in mission.
Mother Mary Columba always understood and used her talents within the context of the vision of Mother Mary Joseph, which is evidenced by her letter following the 1952 Chapter – "Our aim, of course, has been to formulate guiding principles, the observance of which will tend to unite us, and at the same time, allow for the liberty of spirit characteristic of our Maryknoll ideal – the pattern of which has been so wisely and so lovingly projected by our beloved Mother Mary Joseph."
And so, our celebration today is a living remembrance – living in our memories and living in who we are as a Congregation, which has moved through a particular phase of its history symbolized in a great woman – Mother Mary Columba – whose fidelity, talents and commitment were sources of life and growth during her time on earth and now continue beyond her limited historical moment.
Let us celebrate now our great prayer of thanksgiving and of hope in remembrance of Mother Mary Columba.